There simply is no way to tour Europe and not be awestruck by its natural beauty, epic history and dazzling artistic, cultural and culinary diversity. Our continent stretches from Asia to the Atlantic and from Africa to the Arctic. 
As one of the biggest and most visited cities in the world, many European communities have built or use churches in the UK. Multicultural, blending the most diverse languages, traditions and cultures, London is home to many.
If you're visiting from Europe, there's a little bit of home here.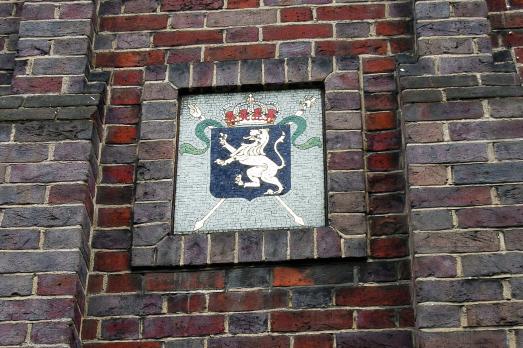 Belgium
The site for the English shrine to Our Lady of Hal. In 1267 St Elizabeth of Hungary presented her daughter Sophia, Duchess of Brabant (Belgium) with a statue of Our Lady. It was placed in the church of St Martin, at Hal, where it is still greatly honoured.

After the First World War many Belgian refugees were already resident in London and a church here would be a refuge for the Belgian community. The church was commissioned in 1933 and houses a replica of the statue made from a dark fruit wood.
Our Lady of Hal, Camden
France
A delightful surprise in an alleyway linking Chinatown with Leicester Square, this airy French church holds one of London's best kept secrets; a beautiful mural by the genius poet, artist, writer and filmmaker Jean Cocteau. Painted in 1959, it is a typically fluid, bold and touching work. Cocteau the filmmaker was enjoying a wave of popularity in London when he was invited to make the mural, and the church had a job to keep out the press and curious fans.

The church itself is spacious, light and serene; a wonderful place to take a breather from the craziness outside.
Notre Dame de France, Soho
Germany
St George's is the oldest surviving German church in the British Isles, opened in 1762. German speakers, mostly religious refugees from the German speaking lands not yet united as modern Germany, ran most of the sugar refining industry in London and this was based in the area around Aldgate, where St George's church is sited.

Today only the church and its former school adjacent are left to remind us of this huge refugee population in an area once called 'Little Germany'.
St George German Lutheran Church, Whitechapel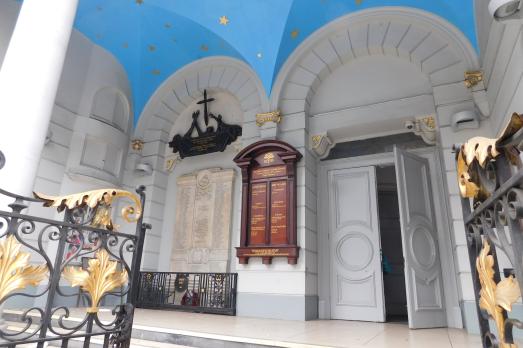 Italy
Built nominally as 'The Church of All Nations', it soon became, and has remained, the church of the Italian community in London. The interior is rich in furnishings and painted decoration, the latter somewhat diluted by 1950s overpainting.

The present main entrance was added in 1891, after the laying out of Clerkenwell Road. Its narrow frontage and campanile make a distinctive contribution to the Hatton Garden Conservation Area.
St Peter's Italian Church, Clerkenwell
Luxembourg
There probably isn't any other school, university or academy that has seen as many royals pass through their doors as has the Royal Military Academy Sandhurst.

Pretty high up on the list of reigning families who have sent their offspring to the British military school are Luxembourg and Liechtenstein. Most recent in the long line is Prince Sebastien, following in the footsteps of many of his male relatives.
Royal Memorial Chapel, Sandhurst
Netherlands
The Dutch Church is located in the heart of the City of London. In this bustling metropolis, a part of the church of the Monastery of the Augustinian monks was given to Dutch and other Protestant refugees in 1550 by means of a Royal Charter of King Edward VI.

The current building is from 1954, because the original church was destroyed in 1940 during the London Blitz.
Nederlandse Kerk, City of London
Denmark
There has been a Danish church in London since 1692, and since 1952 the beautiful St Katharine's church in Regent's Park has been the Danish congregation's home.

Today the church is more in demand than ever. Every year thousands of Danes gather at St Katharine's for religious, cultural and social events.
St Katharine, Regent's Park
Ireland
St Patrick's is the first church in England, at least since the Reformation, dedicated to St Patrick.

The history of St Patrick's is, shall we say, colourful. The area was a hotbed of dazzling soirees, recitals and concerts, but surrounding Soho Square was the squalid area of 'The Rookeries' immortalised so graphically in Hogarth's picture 'Gin lane'. This was home to destitute immigrants, many of them Irish.
St Patrick, Soho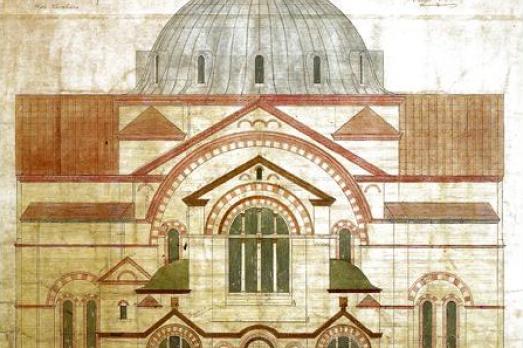 Greece
London's Greek Orthodox cathedral, Hagia Sophia, consecrated in 1882, is Grade I listed and filled with glittering mosaics, brightly coloured paintings, delicate stonework and unique ecclesiastical furnishings. Its contemporary depiction of saints and monumental iconostasis are paired with the grand architectural vision of John Oldrid Scott. Hagia Sophia provided a much needed religious home for London's Greek Orthodox population.
Hagia Sophia, Bayswater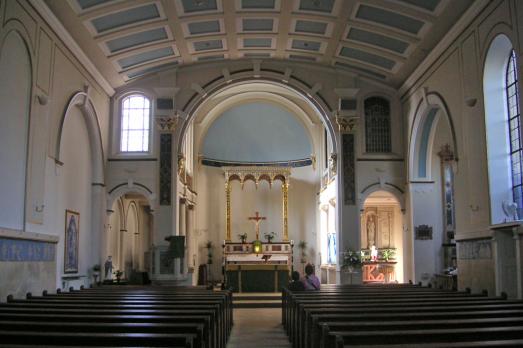 Portugal
Dedicated to a 14th century queen consort of Portugal, St Elizabeth's claims to be oldest standing Catholic Church in the Archdiocese of Southwark. Famous worshippers at the church include exKing Manoel II of Portugal in the early 20th century, but perhaps even more well know are Phil Lynott and Barbara Dickson who both married here (separately) in the 1980s.
St Elizabeth of Portugal, Richmond
Spain
The successor church to the Spanish Embassy chapel by Bonomi was built by his great grandson, Edward Goldie.

The church is of early Gothic design and ranks as one of the most beautiful in London. Built entirely of stone it has a purity of line that confers a true sense of majesty, especially in its height, upon the whole building. The arches of the nave are supported by pillars enriched with marble colonettes.
St James, Spanish Place