Dream Heritage, members of our Specialist Skills Directory, is a not-for-profit born out of Rebecca Watkins'  frustration as well as her passion for heritage, conservation and the environment, and for bringing communities together. "I had a dream that I was supposed to be restoring and rebuilding the ruins in the heritage world and in poor communities," Rebecca explains.
Working on projects including Selby Abbey and the Church of St Mary, Birkin, Yorkshire (pictured below) she employs her father John, a mechanical engineer by trade who has had a lot of hands-on experience with heritage projects having personally developed three listed buildings on the site of his 17th century house in East Yorkshire, doing much of the practical work himself.
Father and daughter involve the community in many of their community heritage projects and archaeological excavations, and also challenge churches, congregations and communities to dream bigger about how their underused heritage spaces can be used to meet the needs of the community, and become valuable self-financing community assets.
Beaurepaire, a former monk's retreat
The company's first project was Beaurepaire, a former medieval manor house in county Durham, which had been neglected for years. A former monk's retreat, the ruin had become completely overgrown and the surrounding area rife with anti-social behaviour.
"We decided we were going to save it," says Rebecca. Within weeks, she had transformed the site with the help of local volunteers and school children who were all keen for something to do as the UK was still in lockdown at the time. 
When people started to get wind of the project, Dream Heritage then received some grants from local businesses, who also donated gravel and gave discounts on local plant hire. Dream Heritage now run historical re-enactments with schools on the site as part of their desire to build enthusiasm among people for old buildings and the environment. They have also recently released a children's history book all about Bearpark and Beaurepaire, illustrated by the local Bearpark Primary School. 
The business grew out of this initial project. Rebecca has since been to West Dean College and become fully trained in Historic Building Repair and Conservation, which involved learning all the old historic crafts. "I did a five year course in a year and it nearly killed me," says Rebecca. She won the Historic England Award-the John Ashurst prize as a result of her efforts and for her drive to use heritage as a catalyst for restoring and repairing communities. 
Transforming, rebuilding and restoring both heritage and communities
"Our 'dream' goes beyond just delivering highly skilled repair and conservation to heritage, but is all about transforming, rebuilding and restoring both heritage and communities," explains Rebecca Watkins, founder of Dream Heritage.
She began her career as an archaeologist, but quickly became disillusioned by her work, the authenticity of which was endlessly being hampered by large projects such as HS2 and big housing estates, "developments which are dividing communities rather than bringing them together," she explains.
"90 per cent of archaeology jobs are commercial so you've got developers on your back who don't want you to find anything. They'll pay you millions of pounds not to find anything."
Selby Abbey
An ongoing project has been Selby Abbey, where John and his family worship. He and Rebecca help with the general maintenance, which includes keeping on top of the rainwater goods and lighting. "Our personal interest in this church was very much a founding step to our current work as Dream Heritage," she explains.
A recent church project undertaken was at the Church of St Mary, Birkin, pictured below. Rebecca and John were initially brought in to fix some of the pointing inside the church, repointing the walls with natural lime mortar. This first job led to many more as problems started to come out of the woodwork. 
Then they also said, 'we've got quite a lot of drafts even though a major project was done only five years ago putting in under-floor central heating, a bore hole and a heat pump",' John recalls.  Dream Heritage set about some minor repairs on the leaded stain glass windows, and on the interface between the main door and the door frame, which was not tight enough. Then they discovered that the rain-water goods needing doing, which led to the much-needed repair of some external pointing. 
"Even if you've had major projects done," John explains, "the whole ongoing maintenance and regular looking-after is key to making sure that things don't start degrading as soon as you've have the work done." This means keeping on top of every little detail including, for example, eliminating roosting positions of wildlife and especially pigeons which can cause serious damage to buildings. 
Working for your daughter
What's it like working for your daughter, John? I ask. "It's a nightmare," he says, laughing. "She's a very strong-willed young lady, knows what she wants, doesn't compromise much. But it's quite a challenge to keep people on the straight and narrow and persuade them to do things in a way that makes long term sense."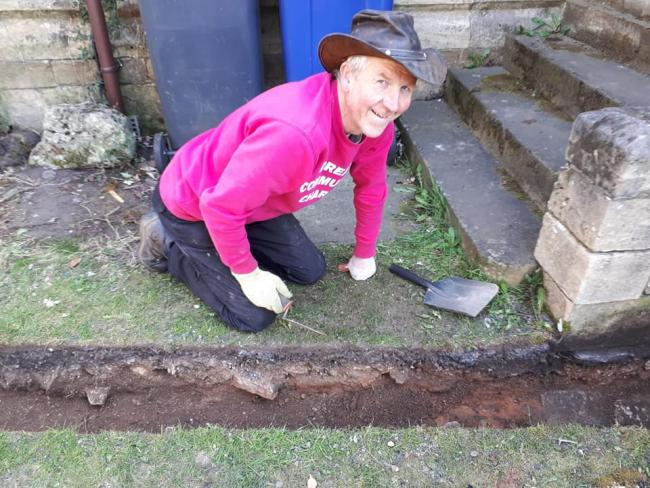 Dream Heritage operate mainly around Yorkshire and the North East, but will travel throughout Britain depending on availability. 
They also run Dream Youth which was set up to deliver a number of youth clubs/events, and support churches to reach and minister to the missing generations - "creating the next generation of dreamers and believers", says Rebecca. 
Profile by Olenka Hamilton