The future of 21 churches and chapels and meeting houses is safe thanks to £351,500 of funding awarded by the National Churches Trust.  
Four of the churches being helped are on the Historic England 'At Risk Register'.
As part of a partnership with the Wolfson Foundation, support of £66,500 is provided by Wolfson Fabric Repair Grants which support repair work at Listed churches in the UK.
Churches being supported in the latest round of grants  include:
A £30,000 National Churches Trust Cornerstone Grant and a £6,000 Wolfson Fabric Repair Grant will fund urgent roof and dome repairs to the Grade II* Listed church of St Mary in central Manchester. The church includes modern Stations of the Cross designed with the advice of the art historian Sister Wendy Beckett.
A £25,000 National Churches Trust Cornerstone Grant goes to St Mark's church in Dundela, Belfast which has strong links with the celebrated writer C.S. Lewis, who was baptised there. The funding pays for a kitchen and servery to improve its appeal to visitors.
A £25,000 National Churches Trust Cornerstone Grant supports St Agatha's church in Sparkbrook, Birmingham. The Grade I Listed arts and crafts style church, one of the finest parish churches in the city, serves a very deprived area and the funding will pay for the installation of a servery and a disabled toilet, increasing the range of support it can offer local people.
A £15,000 National Churches Trust Cornerstone Grant and a £10,000 Wolfson Fabric Repair Grant will fund urgent roof and tower repairs to Grade I Listed St Leonard's church in Old Warden, Bedfordshire (pictured below). The ancient church, which dates from the 12th century, includes a set of 22 finely carved oak panels depicting the personal emblems of Henry VIIII's fourth wife, Anne of Cleves.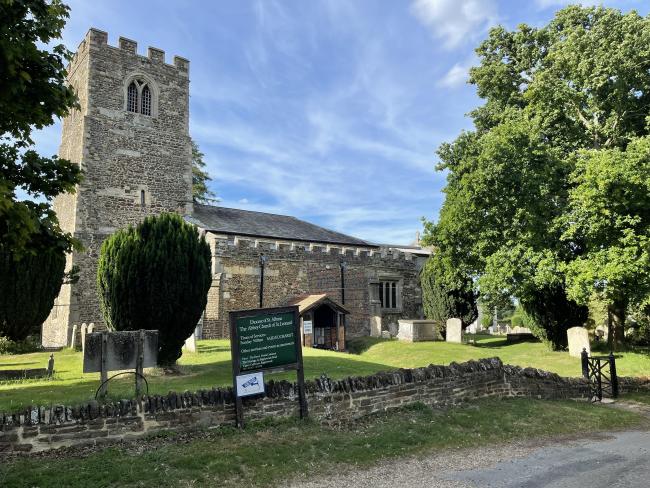 Keeping churches open
With over 900 churches on the Heritage at Risk Register, and the Church of England facing a £1 billion repair bill for its buildings over the next five years, many parishes face severe challenges in keeping their buildings open and in good repair.
To help, in 2022, the National Churches Trust made over 255 grant awards to churches throughout the United Kingdom, with funding totalling more than £1.95m. In 2023, grants continue to be available to churches of any Christian denomination that are open for regular worship to fund urgent repairs, maintenance, installing loos or kitchens and feasibility studies to develop projects.
Broadcaster and journalist Huw Edwards, our Vice President, said:
"With many churches facing a struggle to survive, the latest grants are a tremendous boost to congregations, heritage lovers and to many communities in the UK who increasingly rely on the support provided by churches."
"The grants help fund urgent repairs and installing modern facilities including loos and kitchens. This safeguards important local heritage and keep churches open and in use for the benefit of local people."
"The National Churches Trust helps hundreds of historic churches each year and with the support of local people keeps them thriving today, and tomorrow."
Paul Ramsbottom, chief executive of the Wolfson Foundation said:
"As well as being places of worship and buildings of beauty, churches sit at the heart of the community. In many ways they stand between the past and present. We are thrilled to continue our partnership with the National Churches Trust to support the preservation of these significant, much-loved historic buildings across the UK."
Full details
Details of all 17 churches awarded National Churches Trust Cornerstone Grants, four of which were also supported by Wolfson Fabric Repair Grants, are given below. A further five Wolfson Fabric Repair Grants were also awarded to other churches.