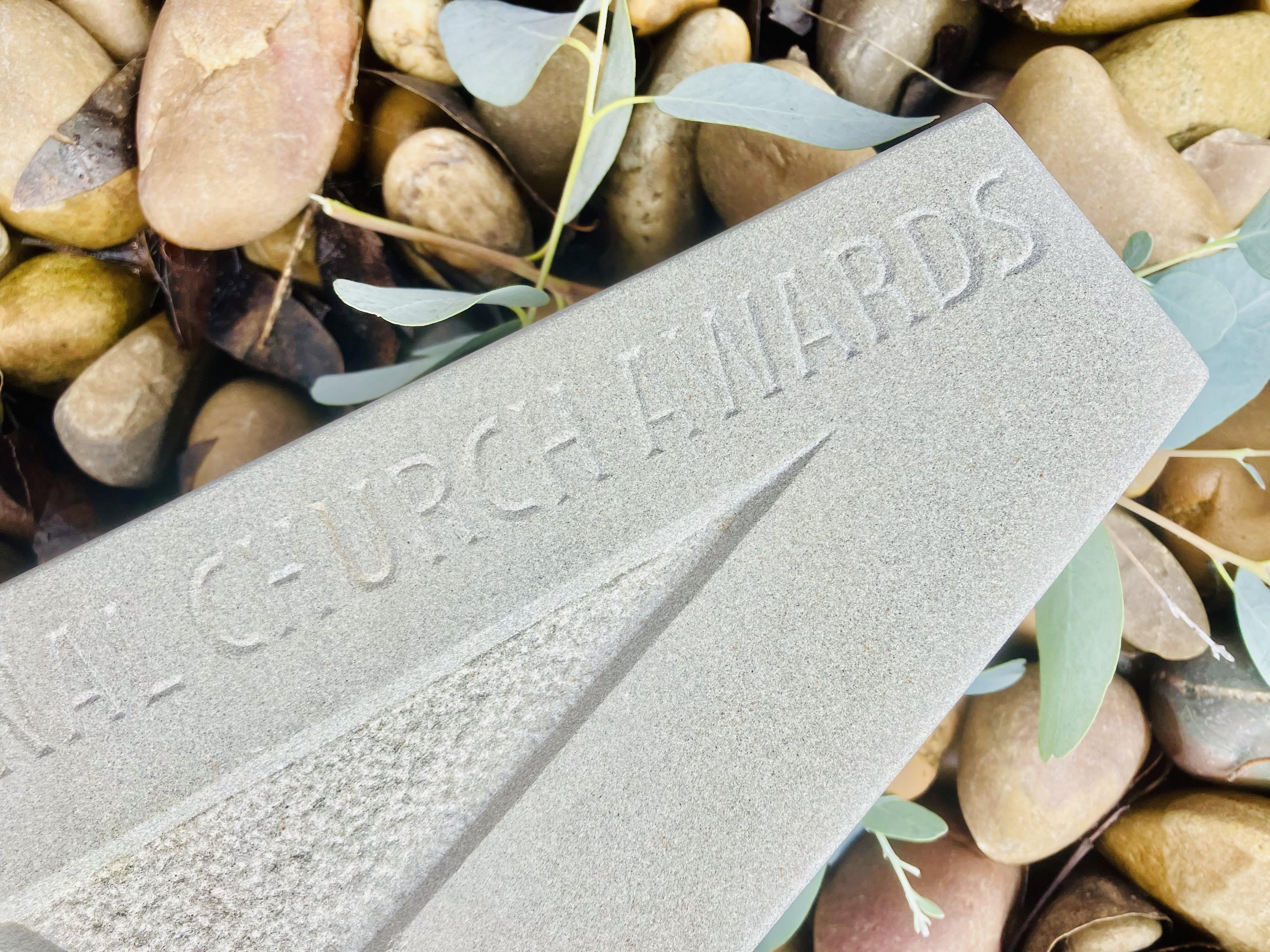 National Church Awards winners 2023
We are thrilled to share the winners of the National Church Awards 2023
Over 200 churches were nominated this year for the National Church Awards from across the UK, from which a judging panel selected the 45 finalists. From eco-churches to community cafés, running tower tours to hosting festivals and concerts, the finalists made an impressive and diverse list. There have been churches, chapels and meeting houses of all different sizes, styles and traditions, all showing that they do amazing things.
Congratulations to all our winners, as well as everyone who strives to help their local church to be the star of their community.
---
The National Church Awards was held in the presence of our Vice Patron, His Royal Highness The Duke of Gloucester KG GCVO. We are hugely grateful to our wonderful hosts Hugh Dennis and Canon Ann Easter, who led us through the announcements with warmth and humour. With special thanks to the Pilgrim Trust, Marsh Charitable Trust and the Ecclesiastical Architects & Surveyors Association, who have partnered with us and to the Mercers' Company who generously gave us such a magnificent venue and delicious tea. 
Our judging stages have brought together representatives from heritage organisations, denominations and churches, sector experts and individuals working in the awards category fields. 
We're extremely grateful to everyone who has been involved.
You can watch the livestream of the event on our YouTube channel
HRH The Duke of Gloucester being welcomed by Hugh Dennis, Canon Ann Easter and Claire Walker, CEO of the National Churches Trust.
---
Hugh Dennis opened the ceremony by saying:
"Churches have an amazing story to tell. They are some of our most beautiful and historically important places – they literally hold the history of this country. The nominations this year have been fantastic. All offer wonderful community support, open up their buildings and become places of pilgrimage and tourism alongside their role as places of Christian worship. We've seen old buildings steeped in heritage and new buildings designed for modern use."
Canon Ann Easter added:
"It's an enormous privilege to be talking about some of the wonderful churches that bless communities across the UK. They are also just a place to be. To take time, sit quietly, say a prayer, and re-set for what's next in your life. Churches seem to offer it all. So the National Churches Trust has decided it is high time that volunteers and churches were rewarded and we've seen over the last year how they have provided 'warm spaces' for those struggling with energy prices, foodbanks for people in need and space for national events of both remembrance and celebration."
Visit Your Finalist Open Day - 18 November
On Saturday 18 November 2023, many of our winners and finalists from the National Church Awards will be open!

Their doors will be unlocked, ready for you to visit and explore their beautiful buildings. With churches and chapels spread right across the UK, why not pick one (or more) to visit? We've created a handy map, so you can find a church near you to explore.
Find out which churches are open and how to visit them
Church maintenance awards
We place great importance on good maintenance and the usefulness of a detailed plan to ensure ongoing upkeep of a church building and to help reduce the likelihood of future repair projects. The awards shine a light on the people who look after local churches.
The Nayler Awards for Excellence in Church Maintenance are run in partnership with the Pilgrim Trust. They were presented by Sue Bowers, Director of the Pilgrim Trust and Shirley Adams, Trustee of the National Churches Trust.
---
Winner for England is St Michael & All Angels, Bishop's Cleeve
"Our building is ancient and beautiful. We take satisfaction in handing down a place where God's work has a headquarters, history and architecture are loved, and the next generation are well served."
As well as being organised and having good foresight, the judges loved that they remember to thank everyone; it's even written into their plan!
Winner for Wales is Llangunnor Parish Church
"The friendship of our group of wonderful people, promoting a can do attitude whatever challenges appear, has come into sharp focus. It's good to get back to having a good Welsh cwtch (hug)."
Not much seems to phase them and the judges loved that they have brought together such a devoted group of people, who give so freely of their time and expertise.
Winner for Scotland is St Anne, Dunbar
"The application of skills towards care and maintenance is an expression of worship and a privilege. Bringing people together to undertake tasks allows connections to be made and strengthened."
The judges were impressed with the way they manage the practicalities of running the church – clearly it's having a big impact. 
Winner for Northern Ireland is St Mary, Altinure
"Volunteering in the church gives me a sense of belonging, I have developed lifelong friendships. I know my actions will have a positive effect on others and this gives me with a sense of accomplishment."
The judges thought that the ethos and community involvement shines through.
---
Overall winner of the Nayler Awards for Excellence in Church Maintenance is Llangunnor Parish Church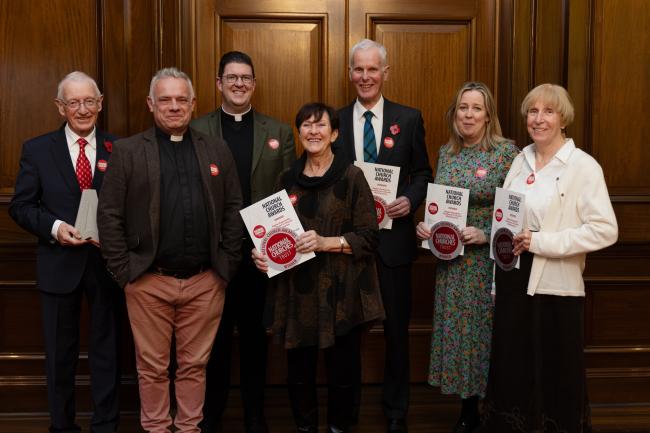 All of the winners of the Naylor Awards for Excellence in Church Maintenance gather with their awards.
Church architecture awards
The King of Prussia Gold Medal celebrates innovative, high quality conservation or repairs. The Presidents' Award is given for the best new addition, including re-ordering, extensions or alterations. The Young Church Architect or Surveyor of the Year is given to an individual responsible for a scheme submitted for either. 
The church architecture awards are run in partnership with the Ecclesiastical Architects & Surveyors Association (EASA).
The awards were presented by Andrew Wood, Honorary President of EASA, and Luke March, Vice President of the National Churches Trust.
---
Winner of the King of Prussia Gold Medal is Arctic Associates with Saltaire United Reformed Church 
As a key building within the Saltaire UNESCO World Heritage Site, the church attracts visitors from around the world. In February 2020 Storm Dennis caused the partial collapse of the ceiling. The restoration of the plaster ceiling and tower exemplifies environmental sustainability and the mitigation of the building's carbon footprint, employing traditional building conservation techniques. The judges liked the good interdisiplinary collaboration to achieve beautiful results. It's a remarkable piece of work.
Winner of the Presidents' Award is Eric Parry Architects with St John, Waterloo
The project has preserved the 19th century architecture of Francis Bedford, and 20th century interventions made following wartime bombing. The nave is a much enhanced worship, event and performance space, with a historically referenced paint scheme. In the crypt, are new spaces for community use. The project has transformed the life and role of St John's in the wider community. The judges loved the elegant reordering of a fine interior, and the crypt is now warm and welcoming. The whole space is very calming.
Winner of the Young Church Architect or Surveyor of the Year is Alex Spicer of Matthew Lloyd Architects with St Mary the Virgin, Walthamstow
Alex was project architect and lead designer from concept design to handover. The project included repair, re-ordering and adding a striking extension which preserves, enhances, and safeguards this significant historic asset. The project has transformed the life of the church, which is now open everyday. The judges were impressed Alex's attention to detail; the floor is glorious. They look forward to seeing more of his work in the future.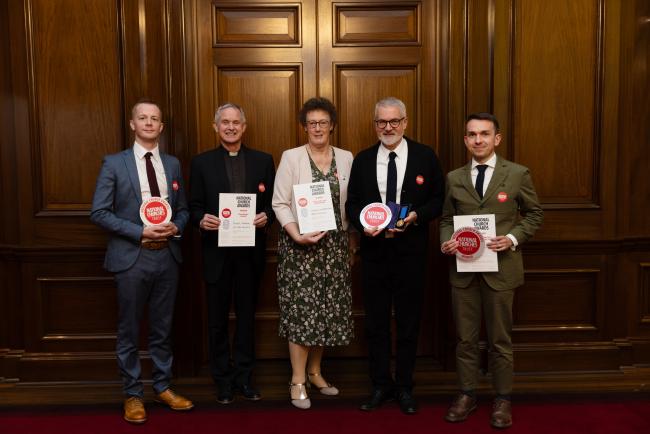 The winners of the church architecture awards stand together with their awards.
Friends vote award
Through their support and generous donations, our growing number of Friends enable us to support churches across the UK to stay open and in good repair. Each year we invite churches that we have already awarded a grant to let us know if they still need additional funding. They each make a short film and, over the summer, our Friends vote for their favourite. The winning church gets an additional £10,000 grant towards their urgent repairs.
---
The award was presented by Xenia Denned from The Mercers Company and Henry Stanford, Treasurer of the National Churches Trust.
The winner is St Mary, South Stoneham, Hampshire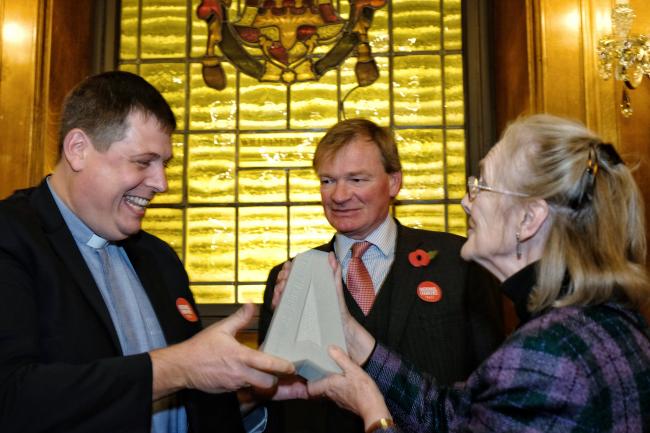 Reverend Joe Sweetnam from St Mary's Church picks up his Friends Award. 
Church tourism awards
Whether for quiet reflection, a warm welcome, a place to worship, or a space to explore with wonder, churches need to be open, loved and supported. The Open for Visitors Awards celebrate churches where being open and welcoming is part of their ethos, and that encourage others to do the same.
The awards were presented by Sandra Lynes-Timbrell, Director of Visitor Experience at St Paul's Cathedral, and Sarah Stewart, Trustee of the National Churches Trust.
---
Winner for England is Providence Chapel, Throwleigh
"Going back a few years Providence was facing real risk of closure. Thanks to our dedicated volunteers, its fortunes have been turned around. In 2022 we welcomed over 1,750 visitors through our doors."
All the judges loved the warmth here, even if you have something simple you can draw in visitors with a warm welcome. It's heartwarming, and providing 'tables to talk' is inspiring.
Winner for England is St Marylebone, London
"We are open 365 days a year. At the heart of central London, we are a much needed community resource. We endeavour to create a warm and inviting environment in which all feel welcome and included."
The judges loved their commitment to being open to all and putting interpretation where everyone will see it.
Winner for Wales is St Peter, Llanbedr Dyffryn Clwyd
"Being open is more than just having the door unlocked. Being open is a state of mind, a way of being. It took being locked during the pandemic for us to discover this ... we could never close the door again."
The judges loved the ethos and the focus on welcome. The sense of warmth and love is wonderful, and shows how a couple of small initial changes can make such a difference.
Winner for Northern Ireland is Church of the Immaculate Conception, Strabane
"Our church is at the heart of the community. Being open and creating that sense of community makes Strabane a better place to work and live and visit."
Judges loved that the church has engaged well with the local tourism board and community. To do all they have done, and to mentor other churches, is wonderful.
---
Overall winner of the Open for Visitors Awards Awards is Providence Chapel, Throwleigh
All of the Open for Visitor Awards winners gather together with their awards. 
Church volunteer awards
The Church & Community Volunteers Awards celebrate the vital contribution volunteers make to both looking after and making the best use of churches to benefit local communities and people. We're particularly excited about incredibly innovative and engaging activities which involve the wider community.
The awards were presented by John Bennett, Ambassador of the Marsh Charitable Trust, and Victoria Collison Owen, Director of Historic Churches Scotland
---
Winner for England is St Hilda, Redcar
"We have a core team of 7 people ranging in age from 40 to 76. They act as beacons in the community."
The judges were very impressed at the structure here, they take care of people and ensure they are in a role that suits them. There is a huge variety going on, and their newly built church is stunning!
Winner for Wales is Holy Trinity, Trefnant
"If someone comes up with an idea then we will give it a go and see if it works."
The judges loved that carers were cared for. The impression is of a warm, fun group to be with.
Winner for Scotland is St James the Great, Stonehaven
"We suggested that members of Inspire, a local learning disabilities charity, might like to take on the disused garden. Approximately 25 volunteers have become involved in various ways."
Judges loved that the partnership with Inspire came from a conversation at a drop in!
Winner for Northern Ireland is Christ Church, Londonderry
"Christ Church and its neighbours are bringing people together in a celebration of culture, heritage and hope for the future."
Judges were impressed at volunteers using what they have to develop ecumenical partnerships – it's proving very powerful.
---
Overall winner of the Church & Community Volunteer Awards is St Hilda, Redcar
Hear an interview with Ruth Barnes from Redcar, recorded for UCB news after the event.
The Community & Volunteer winners gather together with their awards. 
Church of the year
We believe that for a church to be successful, it must be sustainable. Our definition of sustainable includes the following characteristics: relevant; looked after; in good repair; in use; and, open for all.
Our Church of the Year is a shining example of a church, chapel or meeting house which is open, available to all and supported by the local community. It should meet the needs of this community and be welcoming to those visiting from further afield. We want to celebrate a church that values and uses volunteers successfully, and is an inspiration to others across the UK.
The award was presented by HRH The Duke of Gloucester, Vice Patron of the National Churches Trust and Sir Philip Rutnam, Chair of the National Churches Trust.
---
And the winner is : St Marylebone, London
"As a judging panel we were unanimous in our support for this year's winner.. It epitomises everything that a successful, sustainable and open church should be," shared Sir Philip Rutnam, as he presented the Church of the Year award to St Marylebone. 
"This is a church that is working so hard  to look after  and further develop  their building, harnesses the skill and enthuisiasm of volunteersl, creates a wonderful warm welcome and does simply amazing work with the local community, many of who are struggling. It provides  worship, vital services, and us a place that is rooted in its location; available to all.
"They have an excellent music programme, a really cool arts space and  such a breadth of activities that are there for local people and also for visitors. There is a lot here that we can all learn from. We are hugely excited with our Church of the Year for 2023."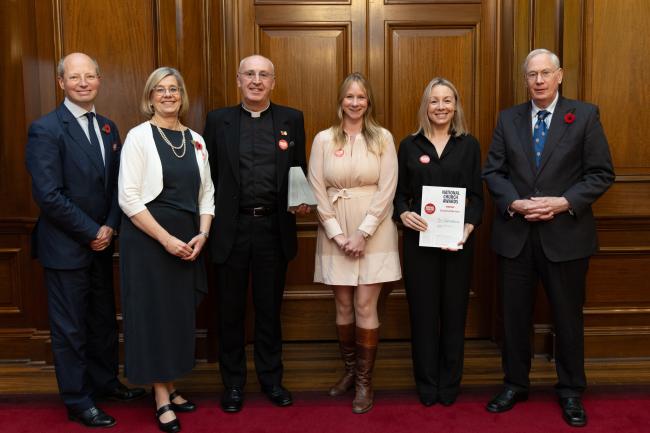 Sir Philip Rutnam, Claire Walker and His Royal Highness the Duke of Gloucester KG GCVO with St Marylebone Church of the Year.  
Our award winners
A gallery of all the award presentations, in the order they were given at the event.