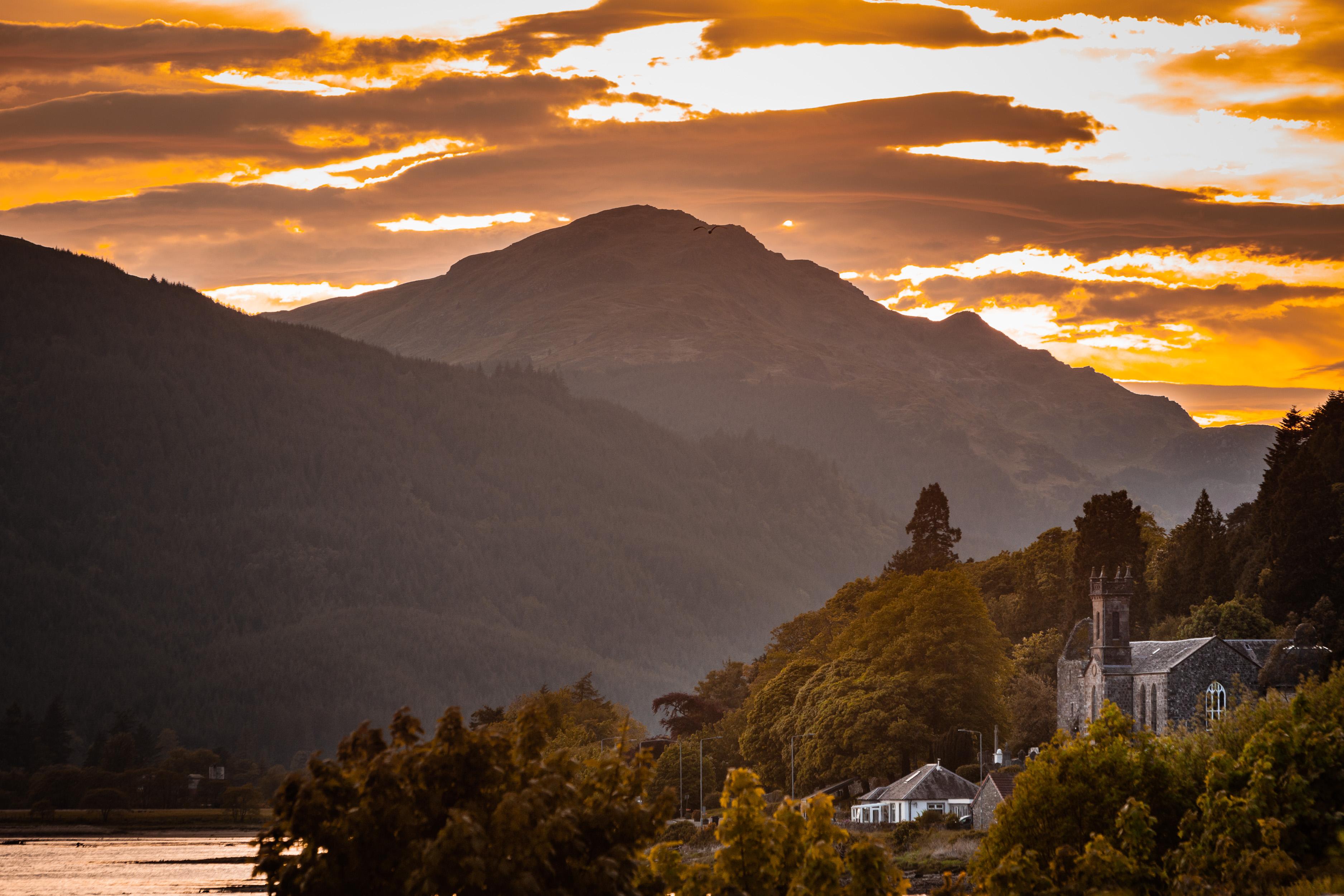 Faith in Cowal pilgrim walks
Discover 200 miles of pilgrim trails in the west of Scotland
by Dan Romani, Faith in Cowal
images ©SubtleSensor2019
---
Cowal is a little known peninsula of Argyll not 90mins west of Glasgow.
It can be reached by road, or by ferry across the Firth of Clyde. Aside from the main town of Dunoon it is sparsely populated and therefore unspoiled. With a raft of beautiful village churches, ruined chapels on hidden hillsides, and a handful of holy wells with which to quench your thirst, and Cowal is an ideal setting for an off road pilgrimage.
The Faith in Cowal pilgrim walks comprise a network of 200 miles of trails, visiting 15 sites of special significance to the growth of Christianity in Cowal. The trails are a mixture of heritage paths, forestry roads and rough hikes; immersing you in the natural and cultural heritage of Cowal. Most of the individual, end to end routes can be traversed in a day. Alternatively, spend a long weekend visiting three or four spiritual sites on one of our predefined loops. 
Situated between Glasgow and Kintyre, Cowal's pilgrim routes offer the perfect opportunity to link up other pilgrim ways, such as those to Iona or Lindisfarne. We encourage you to design your own 'Cowal Pilgrimage' using the detailed walking guides on the website. There are no waymarkers on the ground; instead we've utilised digital technology such as GPS Tracks and what3words addresses.
The result is that you'll feel as if you're forging your own path, much in the way the original pilgrims would have, while still having all the information you require in the palm of your hand.
Here's a taster to get you started planning your pilgrimage, with four routes below.
---
Type : Walk
Distance : 200 miles, but broken down into shorter routes
Time required : Varies depending on the section or route
Difficulty : Varies depending on the section or route
What to bring : Footwear with good grips, ideally boots with ankle support, are essential. Waterproof and warm clothing during the colder months are important too
---
Your pilgrimage inspiration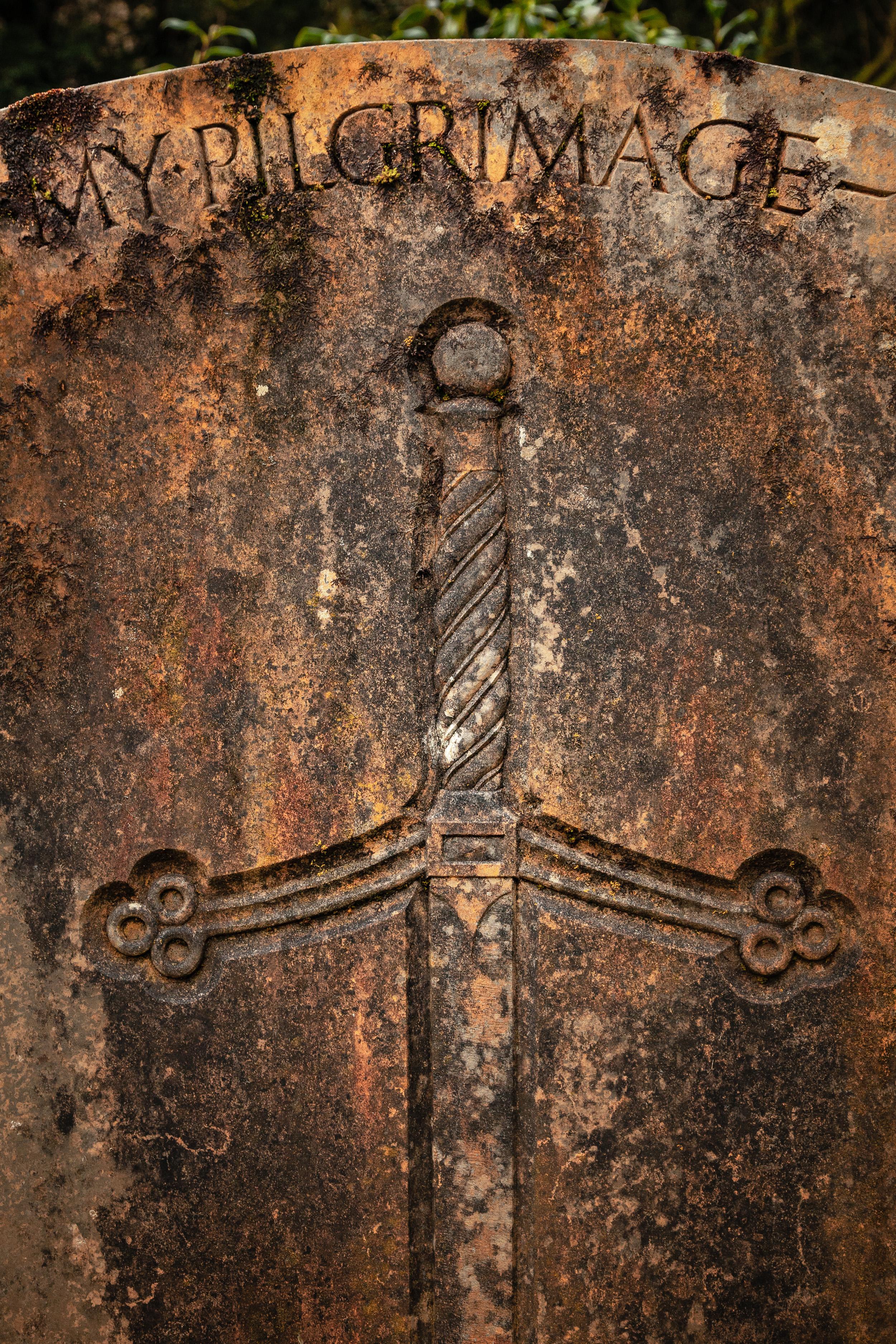 St Munn's Way
Distance : 50 miles
Visiting : 3 sites
---
St Munn's Way is named after the saint dedicated at Kilmun Church, which is both the main hub for all pilgrim activity in Cowal and the start/finish point of this loop. Be sure to spend some time enjoying the stunning Victorian church building, which includes a 6th century carved stone within; stunning 19th century stained glass windows, the work of Stephen Adam; and an ancient graveyard housing celebrities such as Elizabeth Blackwell MD (the first woman ever to be recognised as a qualified doctor in Britain). For a small fee you can also have access to the (Clan Campbell) Argyll Mausoleum, and the Historic Kilmun visitor centre, with the additional option of a guided tour uncovering the many layers of Scottish history here.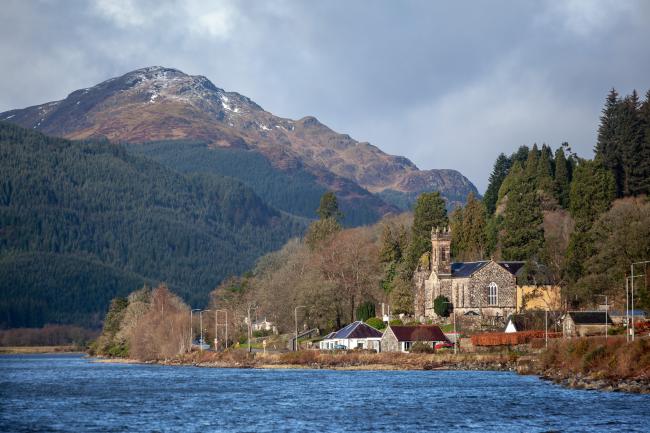 ---
The first leg of St Munn's loop takes you onto the hills above Holy Loch, and offers fantastic views over Loch Long and down the Firth of Clyde. It's a relatively easy walk, spent mostly on well surfaced forestry roads, then walking along tarmac past Carrick Castle and on towards the Church of the Three Brethren in Lochgoilhead. At 21 miles, this leg is best split into a two day pilgrimage.
Nothing is currently known about the 'Three Brethren' dedicated at Lochgoilhead Church, but the interior of this active parish church is beautifully maintained and houses a number of interesting carved stones that pre date the 15th century vestries. Lochgoilhead itself is a stunningly beautiful village nestled amongst mountains and accessed only by twisty mountain passes (one such road bears the name Hell's Glen!).
---
Luckily, pilgrims and walkers alike can follow the Loch Lomond & Cowal Way westwards towards Strachur. This is a well waymarked route involving a relatively steep climb above a waterfall, then pleasant paths following the valleys into the village. This leg is only 10 miles long and can easily be done in a day. In the heart of Strachur is Kilmaglash Church, another active parish church with a long history and some confusion over who the saint is that's commemorated here. Carved stones are inlaid in the exterior walls of the current building, and are now thought to have been plundered from Iona, then submerged in Loch Fyne as their vessel was sunk, and finally rescued by a local laird, who gifted them to the church.
---
The final leg of this pilgrimage is another long one (19 miles) but is perhaps the most spectacular walk in Cowal. It follows forestry paths for the most part (although there is a short, steep scramble over tussocky ground at one point) and joins the Loch Eck Cycle Loop (a forestry trail with unparalleled views over a stunning inland loch), passes the Whistlefield Inn (a wonderful spot to lunch), then drops down near Benmore Botanic Gardens and up through Puck's Glen (a magical gorge walk) and Kilmun Arboretum, before depositing you back at Kilmun Church.
Northeast Cowal
Distance : 35 miles, not quite a loop
Visiting : 4 sites
---
This 'loop' starts at old Kilmorich churchyard, passes via the new church (in Cairndow) to Strachur, then hikes over an old heritage trail into Lochgoilhead. Finally, it loops back to Strachur via the Loch Lomond & Cowal Way, so it may be best to find lodgings in or near here and use this as your base.
Starting in Kilmorich Old Churchyard at the northernmost tip of Loch Fyne, the first leg is for those who might also like to enjoy some tourist attractions. The church at Kilmorich has vanished, but the boundary wall and many of the gravestones remain. It's a peaceful spot overlooking Loch Fyne, with a view of the replacement church only 3 miles away. Before you make the short journey to Cairndow, though, treat yourself to a meal at Loch Fyne Oysters nearby, or explore the history of the area at the Here We Are museum.
---
The first leg is 13 miles and is filled with photographic opportunities. Kilmorich Church in Cairndow is an incredibly photogenic building, replete with a fascinating graveyard, some ancient carved stones, and a medieval baptismal font with a chequered history. Further along the route is the resplendent Ardkinglas House and, later, we head up into the hills, which provide views over Loch Fyne toward Inveraray Castle. There's a slightly foreboding stream to cross, made so because it occurs in the middle of a hike over rough ground between forestry paths. After that, the route drops back down to loch level, and is relatively straightforward.
---
The second leg is a favourite of those who like to be off the beaten track. Hiking poles and plenty of water are required for this strenuous, 13 mile hike. We start at Kilmaglash Church in Strachur, a wonderful building on a mound in the heart of the Clachan, with ancient carved stones (thought to have been plundered from Iona) embedded in the exterior walls. From here the walk heads south through the village, picks up a forestry trail traversing the base of Beinn Laggan hill, then scrambles up a steep, rough slope to join another forestry trail that links up to the Loch Eck Cycle Loop.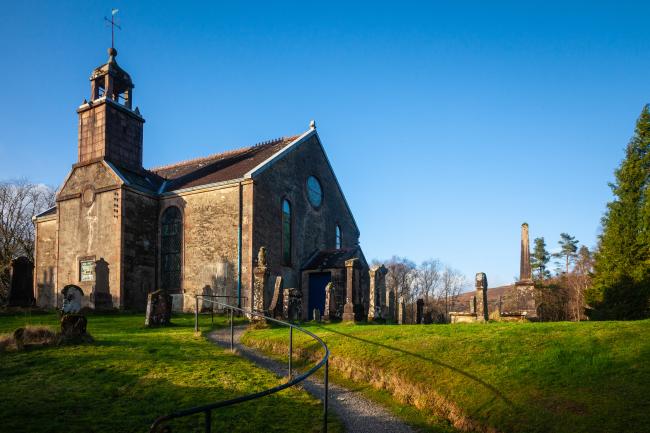 ---
Follow the waymarked cycle route until the path pinches in near a hydro power generator, and then pick up a new set of waymarks for the heritage trail to Lochgoilhead. This section is a steep hike over uneven ground and, although there are waymarkers to begin with, they start to peter out as you approach a beautiful mountain top lochain. Finding your way down from this lochain, back to the forestry roads leading into Lochgoilhead, can be quite challenging even with the GPS tracks we've provided, so this leg is not for the faint hearted.
The Church of the Three Brethren in Lochgoilhead is an unusual shaped building with a stunning interior, which houses some ancient carved stones that appear to be inscribed with early attempts at an alphabet, among other things. Little is known about the three brothers it commemorates, but it's a supremely peaceful site. The village of Lochgoilhead is an absolute jewel, and Carrick Castle is also nearby. The final leg follows the Loch Lomond & Cowal Way for 10 miles over a much easier, and better waymarked, route back into Strachur.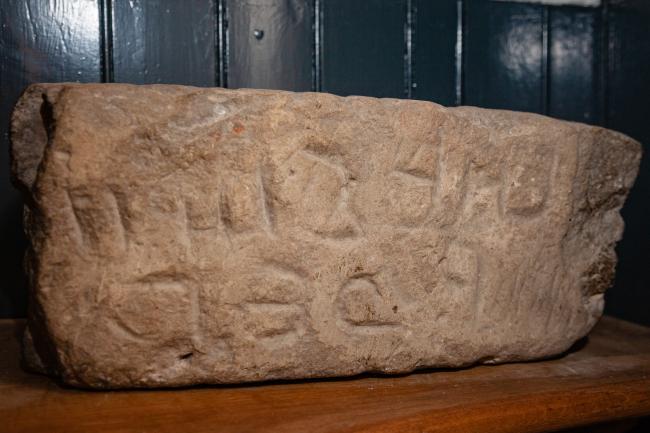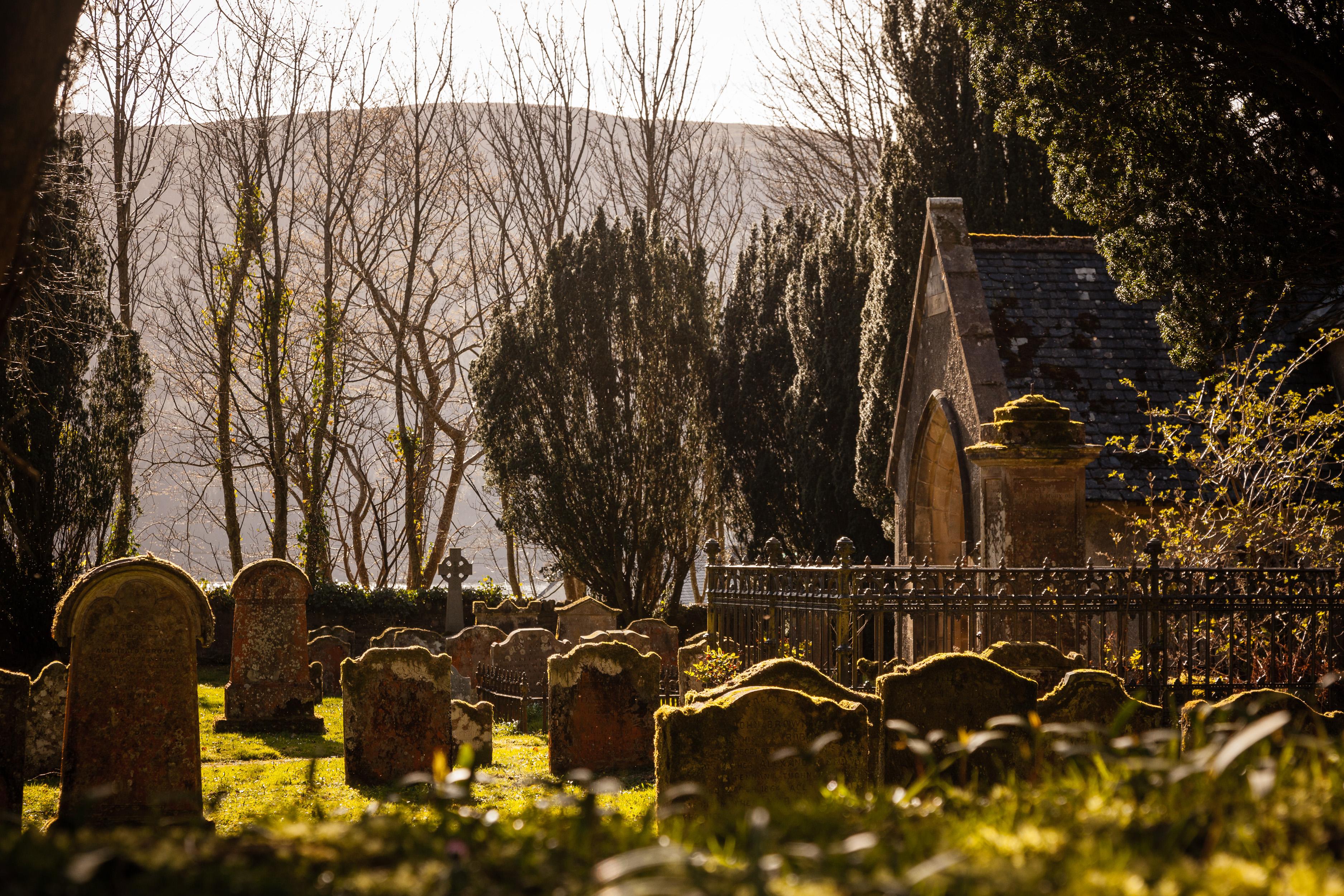 Southeast Cowal
Distance : 36 miles
Visiting : 3 sites
---
This loop starts at Kilmun Church, which is the main hub for all pilgrim activity in Cowal. Be sure to spend some time enjoying the stunning Victorian building, including a 6th century carved stone within, stunning 19th century stained glass windows, the work of Stephen Adam, and an ancient graveyard that boasts celebrities such as Elizabeth Blackwell MD, the first woman ever to be recognised as a qualified doctor in Britain. For a small fee you can also have access to the Historic Kilmun visitor centre and (Clan Campbell) Argyll Mausoleum, with the option of a guided tour uncovering the many layers of Scottish history at this site.
The first leg is a pleasant 10 mile jaunt through Kilmun Arboretum, down into Pucks Glen (a magical gorge walk and tourist attraction in its own right), then up onto the hills using forestry tracks that deposit you down at the start of Ardnadam Heritage Trail. This is a well kept community forest and heritage trail, with archaeological excavations of a settlement and chapel. There are a number of interpretation boards at the excavation site that help to enrich your experience. Near the start of this trail, in a field overlooking Holy Loch, there's also a Neolithic cairn that may be of interest.
---
The second leg is only 8 miles, but it's much more of a hike! Heading back out of the heritage trail the way we came in, it follows well surfaced forestry roads uphill into Glenkin, then picks up a sign for 'The Coffin Trail'. This is an old heritage path once used to carry coffins from Clachaig to the parish church of Inverchaolain (avoiding crossing the territory of superstitious landowners). It hikes up over the saddle between two peaks. There's no real path to see, and no waymarkers other than the initial sign, but it is marked on OS maps, and we do provide GPS tracks on our website.
After reaching the height of the route, the forestry paths below you which follow Inverchaolain Burn west towards Loch Striven, are clear to see (and on a clear day, so are the silhouettes of Arran and Kintyre from here). Inverchaolain Church is now in private ownership and so it's no longer possible to access the building, but the grounds are peaceful, there's an interpretation board by the gate, and the nearby manse houses the Clan Lamont Archive.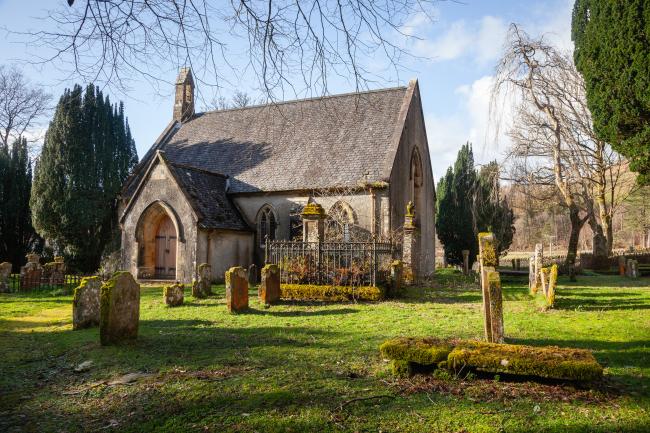 ---
The third leg is a 6 mile walk, mostly at loch level, following a core path through the two shooting estates of Glenstriven and Ardtaraig. Unfortunately, the Glenstriven Estate has let the path to the rear of their grounds become so overgrown as to be almost impossible to see. But if you follow our guide, you'll soon reach the Ardtaraig Estate, which has done a much better job of keeping the path clear. The footings found at Ardtaraig Chapel are well protected by a circle of trees and an early medieval cross slab. Alas, nothing is known about the history of this chapel or the stone.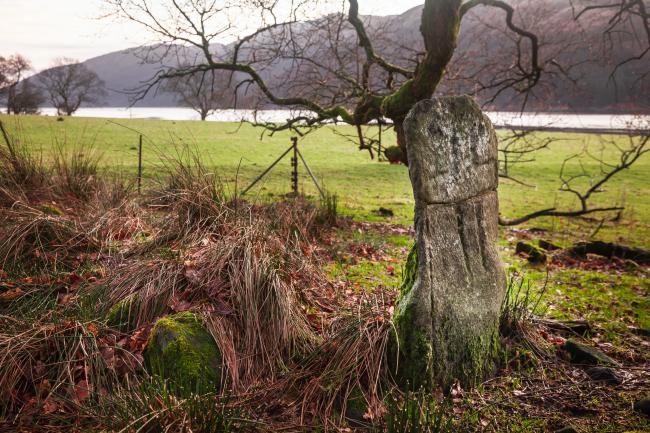 ---
The final leg is a mostly undemanding 12.5 mile walk through two glens to get back to Puck's Glen gorge walk and then Kilmun Church. There is one small section that involves a blind battle though commercial forest, in order to skip between two well surfaced sections, however. If you prefer, this can be avoided by taking the (longer) cycle friendly route.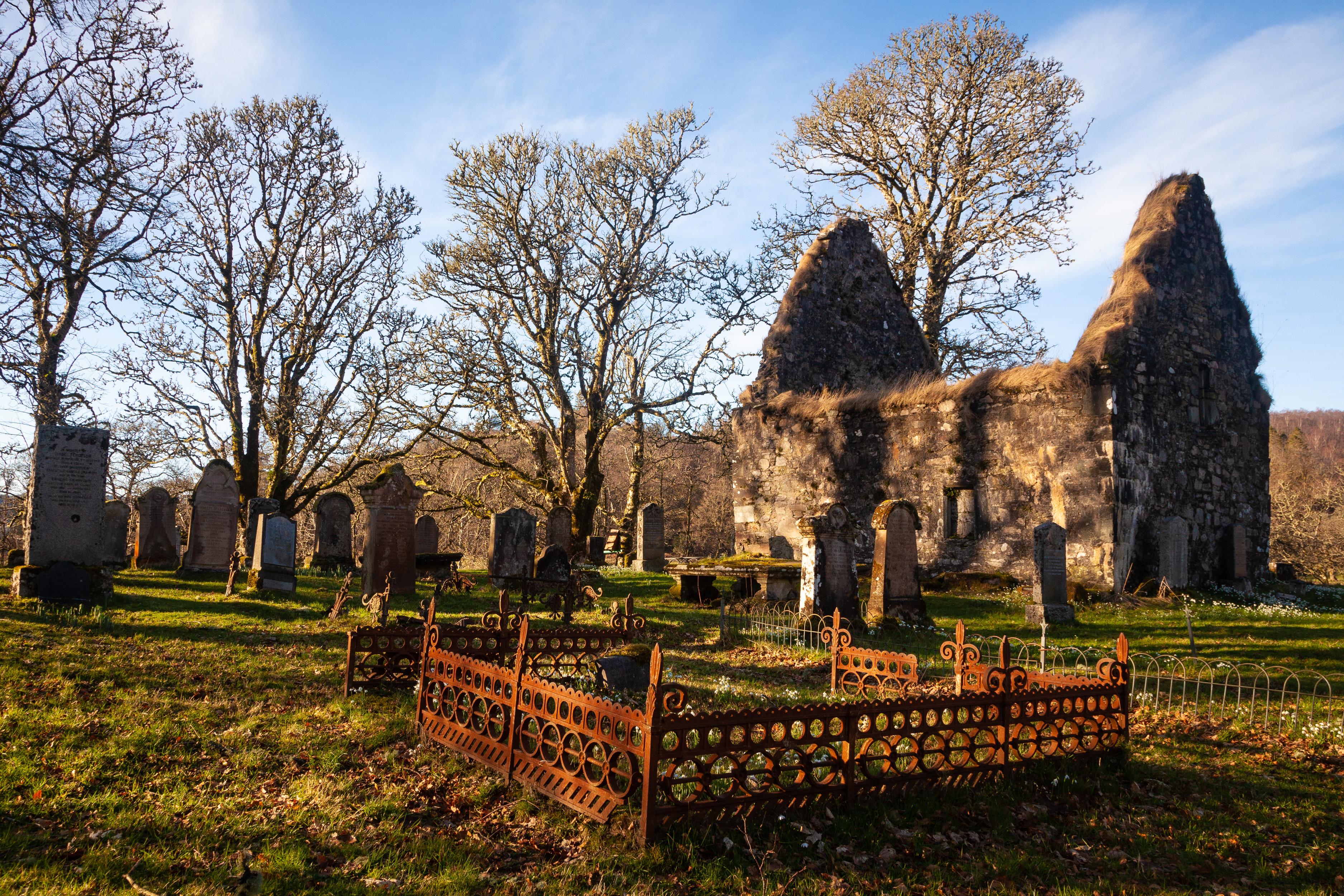 Northwest Cowal
Distance : 42 miles, not quite a loop
Visiting : 4 sites
---
This circuit is the most varied and challenging in terms of terrain, conditions and type. It also offers some of the most rewarding sights to be had in Cowal; expansive views down Loch Fyne, breath taking vistas over Glendaruel valley, and two hidden lochans. The base for this pilgrim way is the ruins of Kilmorie Chapel, once the parish church of the MacLachlan clan (and which now serves as the mausoleum for their departed chiefs). This is a peaceful spot, steeped in history, with Old Castle Lachlan just a short, picturesque walk away. Both sites have interpretation boards explaining their history, and Inver restaurant is nearby, so this is a fantastic spot to spend an afternoon/evening. There are also eco lodges on site and a caravan park nearby, so these might be a wise choice for lodgings.
---
The first leg starts at Kilmodan Church in Glendaruel. This is a beautiful wee church both inside and out, with an expansive churchyard featuring gravestones older than the current building, and a lapidarium in the southwest corner, housing beautifully preserved carved stones in the Lochawe tradition. The route tracks the Loch Lomond & Cowal Way for a short distance, then diverts onto a woodland trail uphill towards Chuilceachan lochain. From there, strike out north-east over the wild heather until you pick up a forestry road, which will eventually guide you down to the roadside near Kilmorie.
---
The second leg is optional (you may wish, instead, to head straight on up to Strachur), but the 4 mile loop is well worth spending the extra time on. It has you hiking into the hillside behind Lachlan Bay to discover the footings of an ancient chapel dedicated to St Brigit, Kilbride Chapel, and a still functional, covered wellspring that would have served water to a long since vanished village (once a popular ferry port between Cowal and Kintyre). It brings you back via the current parish church of Strathlachan, which houses the head of a Celtic cross that once sat on an octagonal column still standing amidst Kilmorie ruins.
---
The third leg is an easy, 8 mile jaunt to Strachur. Most of this journey is done on the verges of quiet, single track roads, or old paths that run alongside the road. However, there are many wonderful views over Loch Fyne, which is on your left for most of the way. Kilmaglash, in Strachur, is an unusual church because it has carved stones inlaid into the exterior walls. These are thought to have been rescued from the bed of Loch Fyne after the boat holding the forbidden cargo (plundered from Iona) was scuttled to avoid detection.
The final leg is probably the most challenging of all the Faith in Cowal pilgrim trails. This is solely down to the last 3 miles. The first 15 are an enjoyable walk along the Loch Lomond & Cowal Way, following it from Strachur, through Glenbranter, then over towards West Glendaruel. This is all well surfaced, moderate terrain with only a few steep ascents. At this stage you could simply return to Kilmodan, via the old road, and have completed an actual loop. But the official route offers a very different experience, it's not for the faint hearted.
This one climbs uphill using a forestry track, and then continues through fire breaks in the trees. There follows an impromptu gorge walk; tracking the bed of a stream downhill into the valley, from whence you must hike back out of the valley, over the saddle between two hills, until you come upon a large hidden lochain. And finally, another fire break in the trees leads you westwards, reaching a forestry path (familiar from the first leg) that will deposit you near Strathlachlan Church and the road to Kilmorie.
Southwest Cowal
Distance : 38 miles
Visiting : 5 sites
The south west of Cowal is very sparsely populated and you'll often find yourself quite alone with the wilderness on these trails. There is, however, a modern luxury resort and marina at Portavadie (some 8 miles south of Kilfinan), which could serve as a place to stay (or simply visit) to contrast with the ancient places and simple trails you'll be spending most of your day on.
This loop starts in Kilmodan Church. In the Clachan of Glendaruel, it sits amidst a lush green river meadow, surrounded by sheep fields and forestry land. It's a beautiful wee church, inside and out, in a bucolic village. The churchyard is home to gravestones older than the current church building, and there's a wee lapidarium in the southwest corner that showcases some well preserved 14th century carved stones.
---
The first leg takes you up into Stronafian Community Woodlands, where you'll find St Modan's Well; a holy well once lost to commercial forestry, but now rediscovered and protected. A short stint off the beaten path (along a route that is due to become an actual path at some point) brings you to a forestry road that crests the hill, offering expansive views over Loch Riddon. From here an old heritage path leads you over a stony bridge, crosses the main road, and then follows the old road along the shore of the loch. Another forestry track takes you up into the hills once more, then dead ends, leaving you to follow the banks of a tributary, towards a small stream, and divert around a waterfall to find the track to Fearnoch Chapel.
Fearnoch Chapel is hidden away from the roadside and clutched in the saddle between two hills. This small, isolated and ruined chapel enjoys incredible views over the Kyles of Bute, and toward Arran beyond. Just beneath the chapel is a baptismal pool fed by an underground wellspring. Getting down from the hillside to the old road beneath can be tricky, but once there, the rest of the second leg is mostly on good surfaces. At 15 miles, this is the longest leg, but its jam packed with rewarding views and blissful solitude.
---
You arrive at St Finan's church, in the small village of Kilfinan, is a real treasure trove here at the westernmost edge of our pilgrimage. Inside there's a gallery of carved stones collected by Clan Lamont, and a mezzanine floor above with information and interpretation boards. Round the back, there's a door that leads upstairs to another wee room with historical artefacts and information. Nearby is the Kilfinan Hotel, where you can stop for lunch or liquid refreshment.
---
The third and fourth leg are really intended to be taken as one 12 mile journey back to Kilmodan. The third leg is an optional component though; a short in and out scramble to a dilapidated neolithic cairn with a Latin cross carved into one of the stones. It may not sound like much, but this spot has been marked as spiritually significant for centuries, then later adopted by Christian settlers, and the tranquillity in the woodland clearing is palpable.
The route back to Kilmodan follows a quiet, single track road, then diverts down an old forestry path to find another road, this one a somewhat tricky pass in a vehicle, and as such is rarely used, but keep your wits about you nonetheless. It's winds downhill mostly and then brings you into Glendaruel valley, where you can watch the River Ruel wend its way past Kilmodan Church.
Faith in Cowal
Explore Scotland's early Christian landscape.

Discover the dynamic beauty of Cowal and the tapestry of natural, cultural, historic and religious heritage that pilgrims visiting Cowal can expect to find. Follow in the footsteps of ancient Christians and Saints on modern pathways and wild hiking trails.
Find out more, on the Faith in Cowal website