Christmas and visiting churches go hand in hand.
From carol services, through school nativity plays, Christingles and Christmas tree festivals and onto midnight mass and Christmas day morning services; it's impossible to think about Christmas without visiting a church.
The Twelve Days of Christmas was first published as a rhyme in 1780, with the tune coming from an arrangement of a traditional folk song in 1909.
All together now!
On the first day of Christmas, my true love gave to me...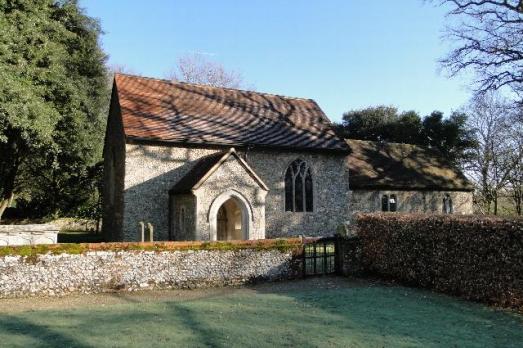 A partridge in a pear tree
OK, we couldn't find a partridge in a pear tree. But a rather good partridge can be found in this church in Norfolk. When the church was restored in 1954, the children's book illustrator Margaret Tarrant designed a delightful set of armrests for the pews, featuring a rich variety of animals and birds. One of the armrests depicts a beautifully carved partridge looking out watchfully across the aisle.
Assumption of the Blessed Virgin Mary, West Barsham
Two turtle doves
The dove is common in churches. Often found in stained glass, they are also found in carvings and in the rich embroidery on furnishings and vestments. In St Etheldreda, London, is a statue of St Anne Line, martyred at Tyburn in 1601. Shakespeare wrote his metaphysical poem 'Phoenix and Turtle' to commemorate Anne's burial. Anne is the phoenix, representing immortality, while her husband Roger Line was the turtledove, representing fidelity.
St Etheldreda, Holborn
Three french hens
To find a hen, or at least a cockerel, you need only look at the very top of a spire, where you are likely to see one turning in the wind. If you want to see a particularly splendid cockerel weather vane, visit this Nottinghamshire parish church, whose 18th century cockerel has been gorgeously re-gilded.
St Mary Magdalene, Newark on Trent
Four calling birds
Originally, the song referred to 'colly birds', with colly meaning literally 'like coal'. Among the birds that would have been included in that general description were starlings and you will find a murmuration of starlings carved on one of the superb misericords in Norwich Cathedral, where they are pictured mobbing an unfortunate owl.
Norwich Cathedral
Five gold rings
Inside this gorgeous Surrey church, every surface is covered in colour and pattern, from the nave walls on which glittering fish leap in golden nets, because St Peter was a fisherman, to the rood screen on which every roll of the moulding bears a different motif. It all culminates in an astonishing chancel with a reredos thronged with saints and angels, whose golden halos glitter in the candelight. It's unforgettable.
St Peter, Hascombe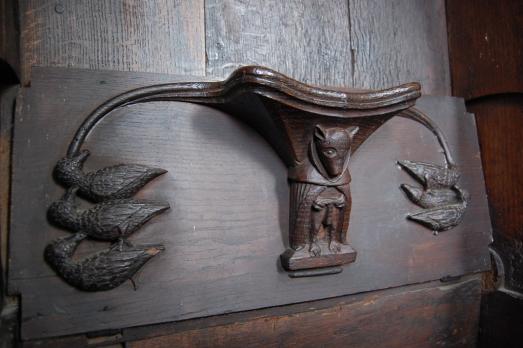 Six geese a laying
Amongst the many treasures of this Sussex church is a superb set of 14th century carved misericords. One of them depicts a fox, dressed in clerical garb, preaching to geese. Drawn from the folktales of Reynard the Fox, it is a warning against corrupt and hypocritical clergymen who have their own interests at heart and do not practice what they preach.
Assumption of Blessed Mary & St Nicholas, Etchingham
Seven swans a swimming
Although many churches close to water may have visits from real life swans in their churchyards, the church of All Saints has another swan within its grounds. Sir Joseph Wilson Swan FRS is buried in the churchyard, He was the early developer of a successful incandescent light bulb and the person who supplied bulbs for the world's first homes and public buildings, including the Savoy Theatre in 1881, to be lit with electric light.
All Saints, Warlingham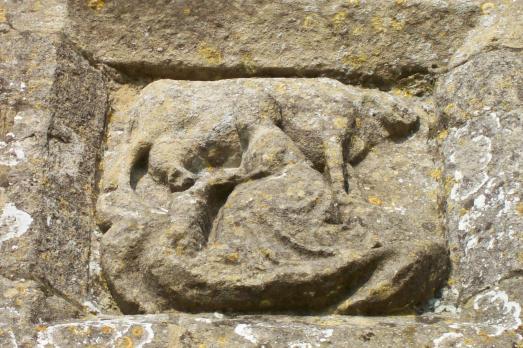 Eight maids a milking
Glastonbury Tor has been a site of religious significance for over 1000 years and is known as being one of the most spiritual sites in the country. As well as its close links to Christianity, its pagan beliefs are still very much celebrated. Above the door on the west side of the tower is a carved panel, depicting a maid milking a cow.
St Michaels Tower, Glastonbury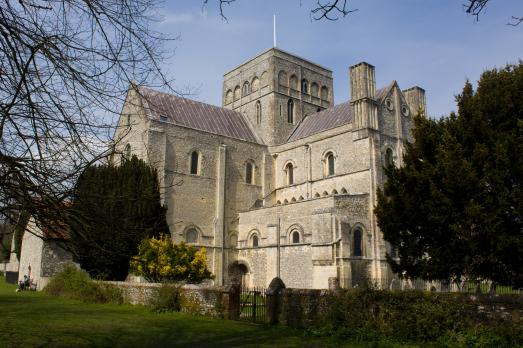 Nine ladies dancing
The Hospital of St Cross has been described as one of the most beautiful groups of buildings in the country. Founded in the 12th century, it consists of almshouses, a hall, and a magnificent church. It was recently featured in the BBC adaptation of Wolf Hall! Within the church, the wonderful 16th century choir stalls feature figurines of dancing ladies.
Hospital of St Cross, Winchester
Ten lords a leaping
For our Lords a Leaping, we turn to a small Norman church in Shropshire. Astonishingly, the building still has its original wall paintings, which date back to the year 1200 and are almost as clear and bright as the day they were painted. Above the columns on the north side of the nave, two troops of knights clash in combat, their horses leaping and rearing. They are said to represent the battle of the vices against the virtues.
All Saints, Claverley
Eleven pipers piping
John Egerton Christmas Piper (1903-1992) was a unique painter, printmaker and designer of stained glass windows. Piper's interest in glass began at 10 when he started to trace stained glass windows near home. When designing his own he used abstraction and colour to enrich his works. Working with Patrick Reyntiens, he created the baptistery window for the new Coventry Cathedral during the 1950s. It has 195 lights of stained glass in primary colours.
Coventry Cathedral
Twelve drummers drumming
Finally, to glorious Beverley Minster in Yorkshire, whose medieval minstrel carvings feature more than seventy images, including twenty different instruments, in wood and stone. It is the largest such collection in the world. In addition to drummers drumming, there are fiddles, trumpets, lutes, cymbals and many more.
Beverley Minster