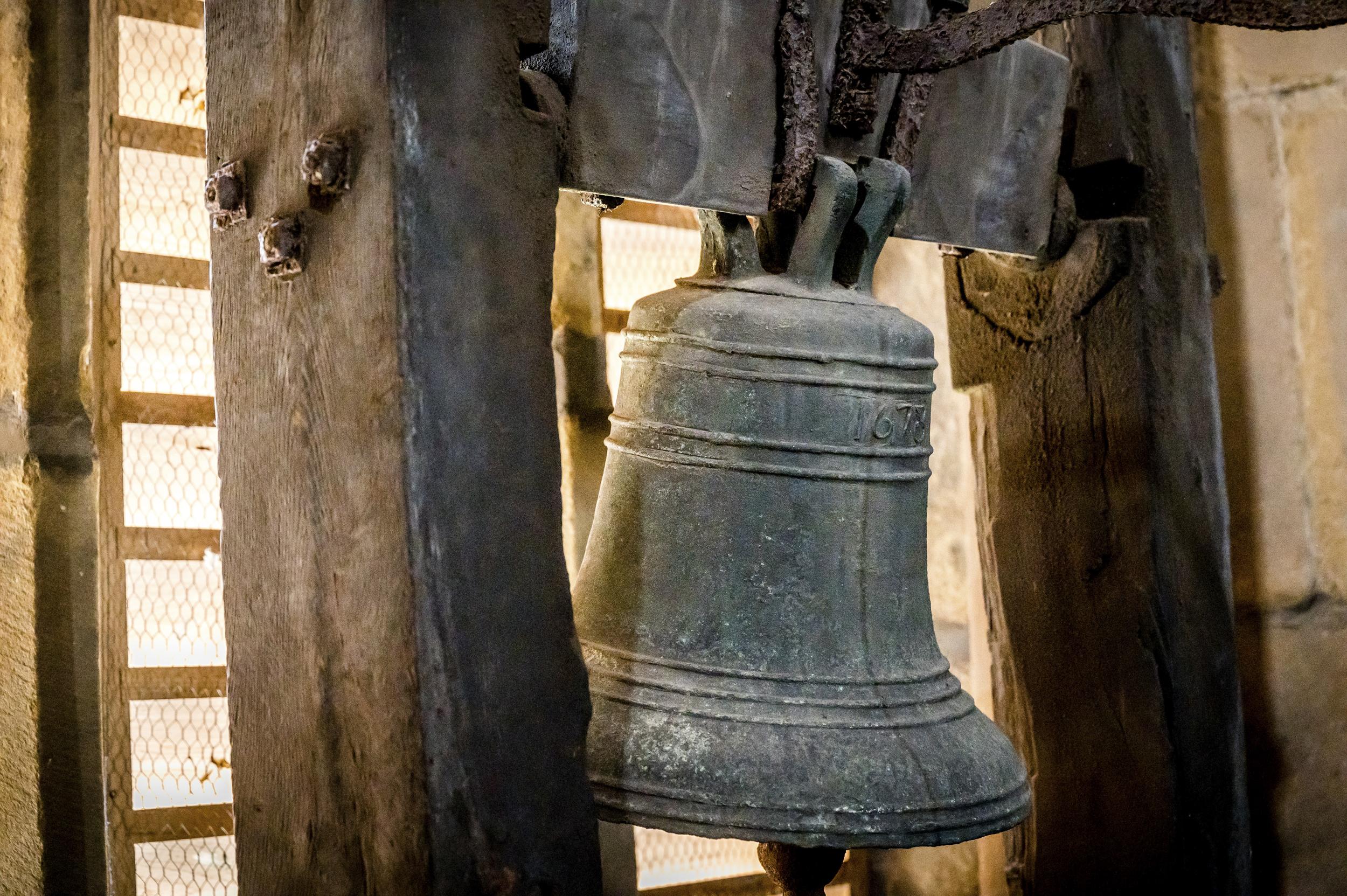 A quintessentially British soundscape
by Neil Jones, Kent County Association of Change Ringers
---
There are a group of individuals for whom visiting a church enables them to practise their hobby.
This hobby has been enjoyed in its current form for over 300 years. It provides practitioners with mental and physical exercise as well as camaraderie with like minded people. They produce something that is part of a quintessentially English soundscape: the cascading notes of bells drifting across a pastoral landscape from a village church.
Many people may not realise that, when they hear a set of bells ringing on a Sunday morning or as a wedding party depart from a church, there is probably a group of bellringers in the tower, one person ringing each different bell that sounds.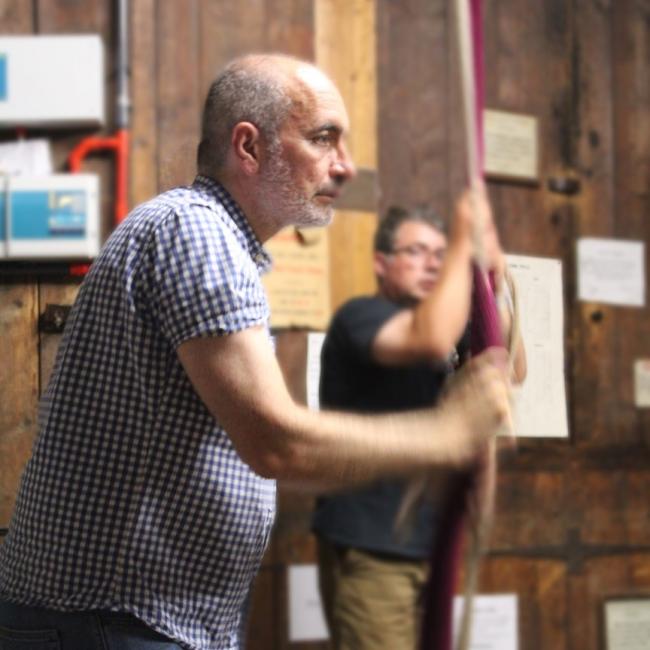 Ring out the old, ring in the new, ring happy bells, across the snow 

: Alfred Lord Tennyson
Bells have been associated with Christianity since around the 5th century when early Christian missionaries would use a handbell to call people to worship.
Most bells hung for ringing in the UK are cast from bronze, an alloy made of approximately 77% copper and 23% tin. They have a very long lifespan and there are over 3000 bells in British churches dating from before the Reformation.
A bell at St Leonard, Ribbesford in Worcestershire, is believed to date from around1150. Another at St Peter, West Tytherley in Hampshire, is dated around 1260 and is believed to be the oldest bell hung for full circle ringing. It forms part of a ring of three, with the other two dating from 1399 and 1725.
St Lawrence, Ipswich houses the oldest ring of five bells, the 2nd was cast in 1440 by William Chamberlain, the 3rd, 4th and 5th date from around 1449 and were all cast by Richard Brasyer. The treble was cast by Reginald Church in around 1490. These were cast by three different founders. St Bartholomew, Smithfield possesses the oldest complete ring of five bells, all cast in 1510 by Thomas Bullisdon.
Because bells last a long time, many have been cast as lasting memorials to individuals or events. For example, the ten bells in the detached tower at All Saints, Inveraray, Argyll & Bute (tenor 2112kg (41-1-8 cwt) in C major) were gifted by the 10th Duke of Argyll in memory of the members of Clan Campbell who perished in the First World War.
---
All bells are different, and some rings of bells sound much better than others.
There are several factors that can contribute to this although the quality of the casting and the tuning of the harmonics are key to the sound of each bell. The eight bells of All Saints, Gresford in Clwyd (tenor 1221kg (24-0-3), tuned to D major) are described in an anonymous poem as one of the Seven Wonders of Wales because of their tonal quality.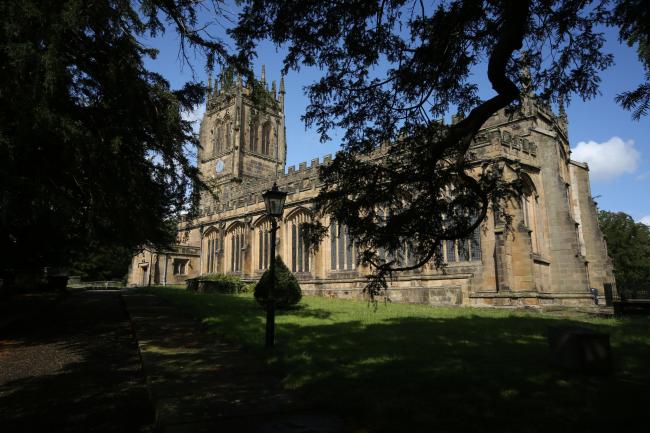 ---
Iron and steel have been used in casting bells but the tonal quality is not good. A ring of steel bells existed until 2012 at St Anne, Moseley in Birmingham. They were cast in Sheffield around 1860 for the Roman Catholic Cathedral of St Marie. By all accounts, the Cathedral did not want to keep the bells and they were sold in 1874 to a Mr Lyndon of Moseley who presented them to the church. At a speech in Sheffield in 1938, Arthur Paddon Smith, a vice-president of the St Martin's Guild of Church Bell Ringers, based in Birmingham said that "they struck a bargain and these absolutely putrid bells, cast from steel, were bought by one of the wealthiest churches in Birmingham".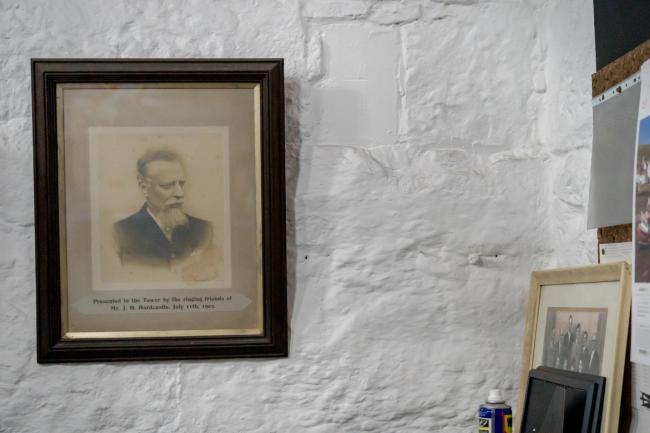 Bell ringers practice a system of ringing known as change ringing, which evolved in the 17th century.
They ring pieces, known as methods, comprising of subtly altering recurring patterns in which they try to avoid repeating each combination more than once. On five bells, there are 120 combinations or changes. There are 720 on six bells and 40320 on 8 bells. Mathematicians will notice that these numbers are the factorials of 5, 6 and 8.
Each ringer has the ability to control when their bell sounds. This is achieved by allowing their bell to swing through a full circle, starting with its mouth facing upwards and returning to this position at the end of the swing. The term given to this style of bell ringing is 'full circle ringing'.
By controlling the pull on the rope, it is possible for the ringer to either hold the bell on the balance when the mouth is upwards so that it can sound after another bell or slightly reduce the swing so that the bell may sound before another. This ability to change positions in the sequence is the basis of change ringing that is now practiced by many bell ringers.
---
Although the 18th century saw a real increase in the number of bells being hung in churches due to developments in the tuning of bells, the development of full circle ringing and the evolution of change ringing was mainly restricted to England. Of about 6100 churches where there are three or more bells hung for change ringing, over 5700 are in England. There are just over 230 more in the rest of the UK and the remainder are located generally in countries which have had strong links with England in the past.
More than half of the churches with bells hung for full circle ringing contain six bells and about one third contain eight bells. There may be ten or twelve bells in larger churches or Cathedrals. There is a diatonic ring of sixteen bells tuned to the key of C major with a tenor weighing 2003kg (39-1-19 cwt) at the church of St Martin in the Bullring in the heart of Birmingham. The church of the Holy and Undivided Trinity in Ossett, West Yorkshire boasts a diatonic ring of 15 bells, tenor 1396kg (27-1-25kg) in D major.
No ring of bells is identical. They can range from very small bells such as the six bells at St Christopher, Warden Hill, where the lightest bell (treble) weighs 11kg (24lbs) and the heaviest bell (tenor) is 29kg (0-2-7 cwt). They are tuned in the key of C major. At the other end of the spectrum are the bells at Liverpool Cathedral. There are thirteen bells in the tower; the treble weighs 480kg (9-1-25 cwt) and the tenor 4171kg (82-0-11 cwt). Twelve are tuned to the scale of Ab major, the thirteenth bell, tuned to the note of D allows the ringers to ring a lighter octave tuned to the key of Eb major. It is not unusual for some rings of twelve bells to possess additional bells to give the ringers the chance to ring on a set of eight or ten bells tuned to different key.
Love to know more?
Find out more about the mathematics, superstitions, weird and wonderful towers or simply what to wear whilst ringing with these podcasts.

If bellringing catches your imagination, Fun with Bells have more episodes. Find the full playlist by clicking on the link below.
Fun with bells
Most rings of bells are housed in a tower.
The majority of towers are attached to the church, although the church of St Andrew, Cotton in Suffolk, containing a ring of eight bells (tenor 551kg (10-3-10 cwt) in the key of G major) is unique in that although the bells are within the walls of the tower. The west end of the tower is an open archway making the ringing space open to the elements.
Some towers are separate from the church itself. Examples include St Edmundsbury Cathedral and Chester Cathedral as well as several churches in East Anglia. Perhaps one of the most interesting detached towers is the wooden tower at St Augustine, Brookland in Kent, which houses a ring of six bells tuned to the key of Ab major. The tenor bell weighs 432kg (8-2-0 cwt).
The bells at St Mary the Virgin, East Bergholt in Suffolk are unique in Britain in that although they can be rung full circle, they are not rung by the ringers pulling on ropes. Rather, each ringer has to push their bell back and forth. The five bells are in a covered frame in the churchyard, they are the heaviest ring of five bells in Britain and are tuned to the key of D major. The tenor weighs 1324kg (26-0-8 cwt)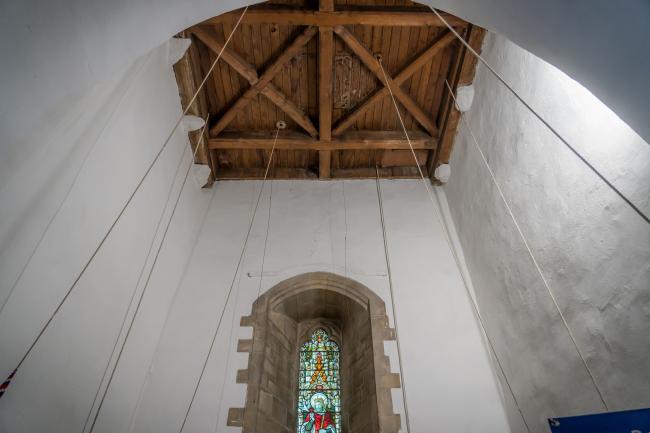 Bellringing is a unique hobby.
Not all ringers are church goers although they commit time to sounding the bells before a service of worship as well as practicing regularly at their own church as well as others. It offers an opportunity to visit many different churches up and down the country as well as helping to maintain an art that has been part of our heritage for hundreds of years. Most churches are always looking for new recruits and will welcome an interested visitor who is curious to find out more.
Details of churches can be found through the 'Learn to Ring' section of the Central Council for Church Bell Ringers website. Why not give it a go?
The bells at St Giles, Wrexham