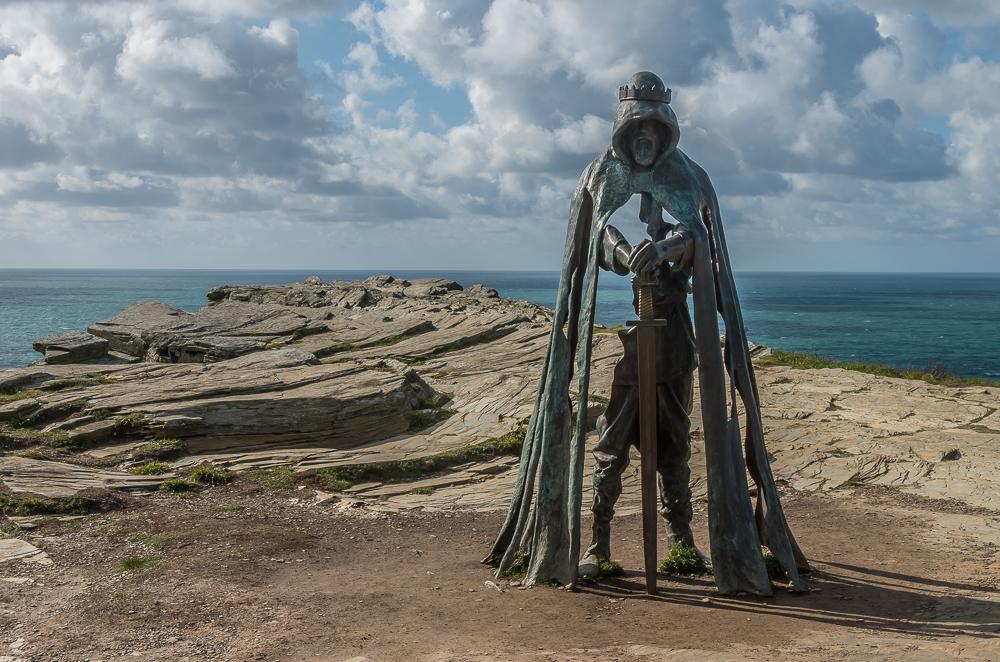 Arthur, sometimes known as 'the king that was and the king that shall be', is recognised all over the world as one of the most famous characters of myth and legend.
Also called Arthur or Arthur Pendragon, the legendary British king appears in a cycle of medieval romances as the sovereign of a knightly fellowship of the Round Table. It is not certain how these legends originated or whether the figure of Arthur was based on a historical person. The legend possibly originated either in Wales or in those parts of northern Britain inhabited by Brythonic speaking Celts. They link Arthur to a poetic idea of Britain as a kind of paradise.
Then there is the historic figure of Arthur, a victorious 5th century warrior, leading Britons into battle against Saxon invaders. All that is known is that a man named Arturus led a band of heroic warriors who spearheaded the resistance of Britons against the invading Saxons, Jutes, and others from the north of Europe.
So where does the legend come from?
The adventures of the legendary King Arthur, with his Round Table Fellowship of Knights based in the mythical city of Camelot, were told and retold between the 11th and 15th centuries in hundreds of manuscripts in at least a dozen languages. They are still told to this day.
Why has Arthur remained so important to us and why are there so many churches associated with him?
Hic jacet sepultus
Glastonbury Abbey is said to be the final resting place of King Arthur. In 1184, a great fire destroyed the monastic buildings and pilgrim visits fell.

However in 1191 the discovery of Arthur and Guinevere's tomb was reported, providing fresh impetus for visiting.

The monks told how while digging they had discovered two skeletons, above was a leaden cross with the inscription 'Here lies interred the famous King Arthur on the Isle of Avalon' written in Latin. In the 13th century King Edward I and Queen Eleanor attended the reburial of King Arthur's bones in the choir.

Artist impressions of the tomb can be seen today in the abbey's museum.
Glastonbury Abbey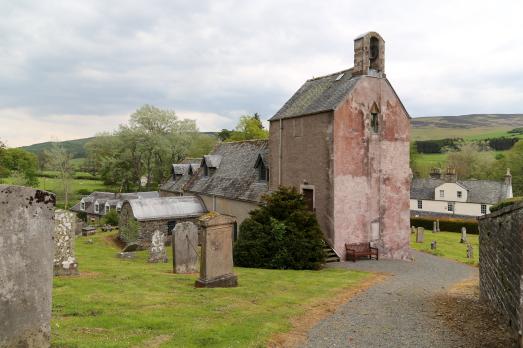 Baptised on a boulder
Legend has it that St Kentigern converted Merlin Sylvestris, the wizard associated with King Arthur, to Christianity and baptised him on a boulder nearby.

Merlin had fled to the forest after King Gwenddoleu had been defeated and killed at the Battle of Arfderydd near Arthuret in 573. There is a rock known as the 'Altar Stone' and a stained glass window in Stobo Kirk.
Stobo Kirk
Arthur's last battle
Arthur's last battle was at Camlann, also known as Camboglanna, in Cumbria. If he did die near the Scottish borders, it would make more sense for him to be buried locally, and Arthuret church, with its 6th century origins, has a strong claim.

The church overlooks a site of the Battle of Arfderydd in which Myrddin (Merlin) killed his nephew. This drove Myrddin mad and he spent the rest of his life roaming the Forests of Celyddon.
St Michael & All Angels, Arthuret
Sir Gawain's cell
A flight of worn stone steps leads up to the tiny chapel clinging to the Pembrokeshire coast, where St Govan (or Gawain) had his cell. Most dates from the 13th century, but parts may be as early as the 6th century.

One story connects it to Sir Gawain, King Arthur's nephew. According to local legend he is buried here, having retired to live out his days as a hermit after Arthur's death.
St Govan Chapel, Bosherston
Carantoc the dragon tamer
St Carantoc was the son of Ceredig, King of Cardigan, but he chose the life of a hermit and lived in a cave above the harbour of Llangranog, where there is a holy well.

According to legend, his portable altar was lost as he crossed the Severn Sea. Carantoc went to King Arthur for help and the King asked him to tame a dragon that was troubling the neighbourhood in return. After Carantoc had prayed, the dragon came running to him and bent his head, lifting neither wing nor claw against him.
St Carannog, Llangrannog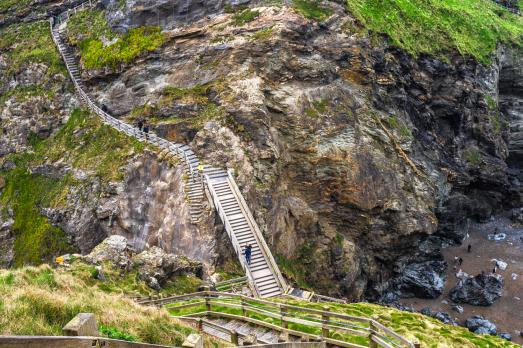 Conceiving a legend
In about 1138 Geoffrey of Monmouth's History of the Kings of Britain contains the earliest written mention of Tintagel, Cornwall, in the tale of how Arthur was conceived there by Uther Pendragon, King of Britain, and Queen Igerna (Igraine). Geoffrey described its dramatic physical setting, evidently appreciating its romantic nature.
Tintagel Castle Chapel
Once and future King
There are very few churches dedicated to St Dubricius. He was born near Hereford and became a monk and important church leader whose most important centres were at Hentland and Moccas in the Wye valley.

In medieval legends he becomes the 'archbishop of Caerleon' who crowns King Arthur at Colchester. He died around 545 AD.
St Dubricius, Hentland
Arthur's crown jewels
King Arthur was born, lived and died in Shropshire. Some academics believe he was actually a king of the Votadini tribe. They did their pillaging around Viroconium, close to modern Wroxeter, and he married a local girl Guinevere, or Ganhumara, from Oswestry.

Early welsh poetry suggests that the treasures of Powys were hidden at Much Wenlock Priory. The treasure being seemingly the Crown Jewels of King Arthur himself.
Much Wenlock Priory