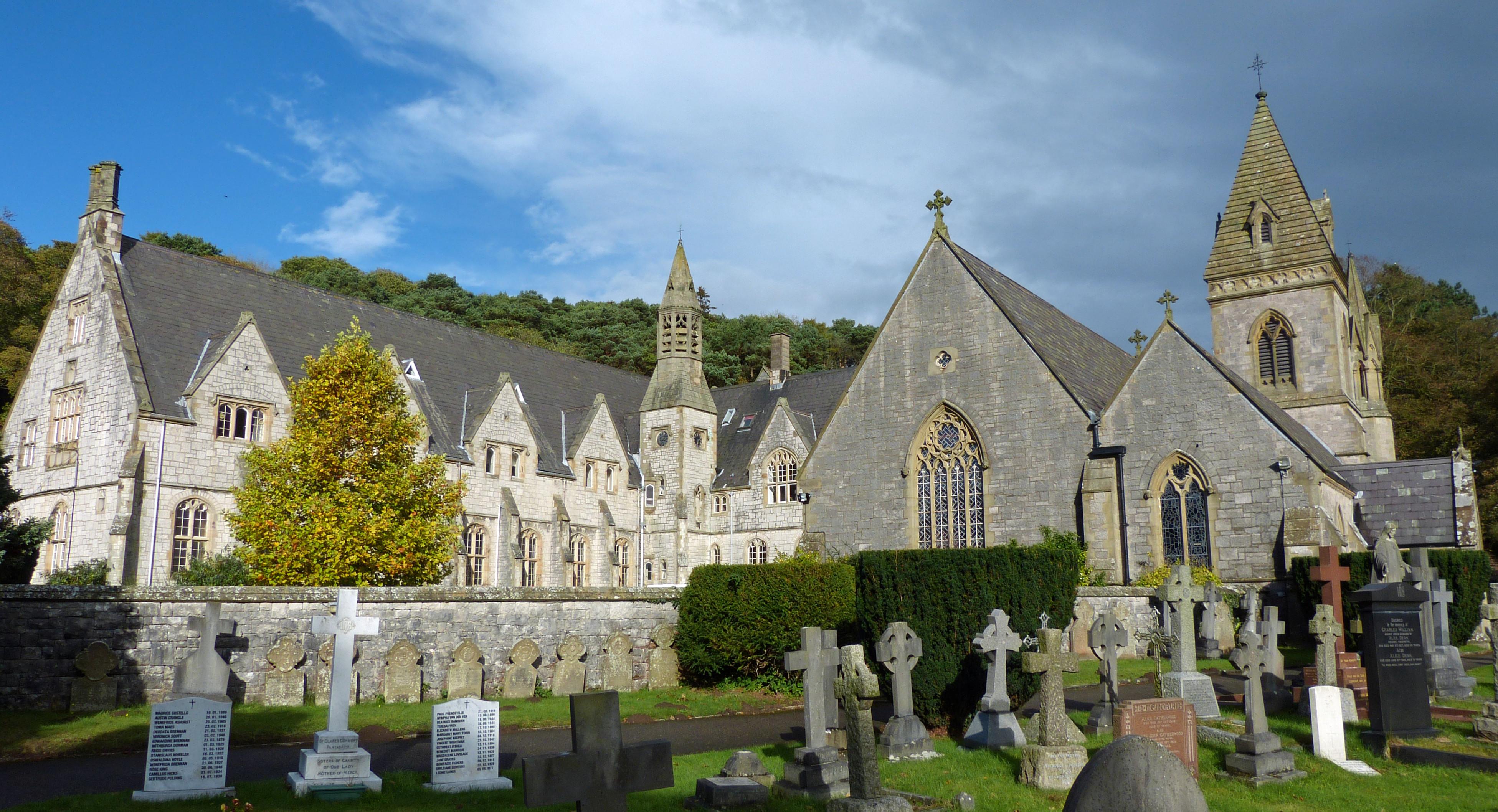 A hidden Catholic heritage
 Fifty Catholic Churches to See Before You Die
by Elena Curti
---
It's amazing how a chat with a colleague over coffee can spark an idea. That is how I came to write my book, Fifty Catholic Churches to See Before You Die.
We were talking about the popularity of church tourism and about all the books and specialist holidays that are being developed for visitors. We thought that Catholic churches were missing out and wondered why. Then my colleague said: 'You know, someone ought to write a book, 'fifty Catholic churches to see before you die''.
And I thought 'why not'? This could be my contribution to putting Catholic churches on the map! I took the idea to a publisher, who were very enthusiastic. And now, at last, the book is out.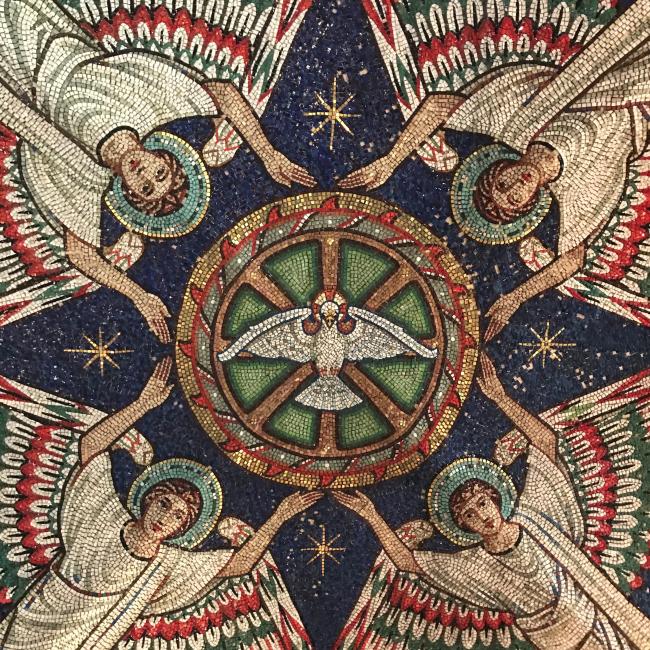 I had the time of my life doing the research with my husband, Andy, who did the driving and took photographs. We travelled the length and breadth of England and Wales looking at churches and meeting the people who look after them. We found outstanding places of worship in the hearts of towns and cities that no one seems to notice even though thousands pass by every day. There were more wonderful buildings in ordinary suburbs and others well off the beaten track.
There were some churches that I knew I had to include the moment I stepped inside. These presented a complete artistic vision from the design of the building, to the furnishings and stained glass, right down to the smallest detail. These and the rest of my choices reflect the very best in Catholic architecture. Taken together they give the backdrop to the story of Catholicism in England and Wales.
Of course, there are more than fifty Catholic churches to see before you die and I had difficulty deciding what to leave out. I omitted cathedrals on the grounds that they deserve a book of their own and listed only churches that are accessible to the public. I found a way of mentioning many more by listing, at the end of each entry, those that are 'worth a detour'. I am hoping this will help readers to plan a great day out.
I was fascinated by the history of the churches: the resilience of the old Catholic families; the stories of martyrdom and anti Catholic rioting; how the Church slowly emerged from the shadows and surged in confidence during the Victorian period; and how poor Irish migrants contributed their pennies, and often their labour, to raise their places of worship.
In normal times, priests and volunteers welcome visitors. Increasingly, they are producing excellent guidebooks as well as arranging exhibitions and open days. Some will, on request, provide guided tours.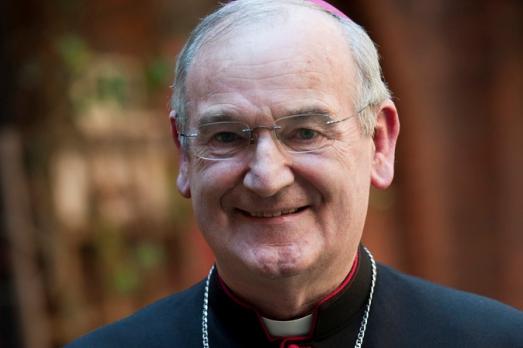 ​​​​​​​Throughout the ages, Catholic people have dedicated their faith, time, energy and money, to building these sacred spaces, and with love and care adorned them with commensurate beauty. The transcendent architecture of churches is a witness to human destiny beyond this immanent world.

+George Stack
Archbishop of Cardiff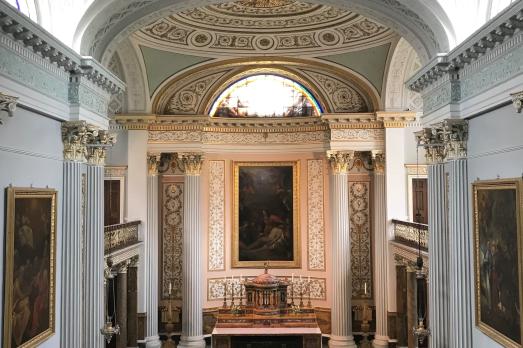 1776 : All Saints Chapel
New Wardour Castle, Tisbury, Wiltshire

While the chapels of penal times were usually hidden in attics and barns, the eighth Lord Arundell concealed his in a wing of his Palladian mansion. The front of the house is quite restrained, and there is no sign on the door. You step into an antechamber, through another door, then into a perfect neo Classical space, unaltered since the 18th century.

It is a splendid interior, with Corinthian fluted columns and pilasters, filigree gold decoration, an ornate marble altar and giant Rubens like canvases. The architect was James Paine (1717–89) with later additions by John Soane (1783–1837) who went on to design the Bank of England.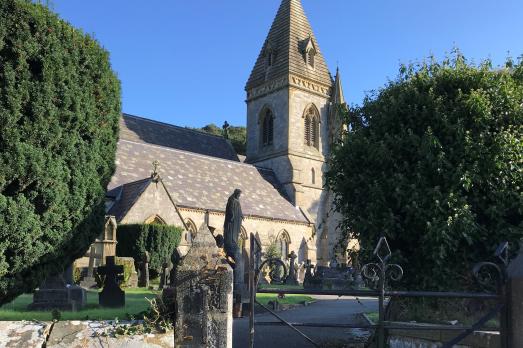 1852 : St David
Pantasaph, Holywell, Flintshire

This handsome stone church was originally meant to be Anglican but its patron, Rudolph, Viscount Feilding, later the seventh Earl of Denbigh, converted to Catholicism and employed the father of the Gothic Revival, Augustus Welby Northmore Pugin to give it a Catholic makeover.

The high altar (shorn of its reredos, now in a side chapel), Lady Chapel, rood and font are all Pugin's. He also designed the fleur de lys tiles at the base of the high altar. His Pantasaph Madonna and Child carved by his collaborator, George Myers (1803-1875), was so close to his heart that he asked Myers to make another for his own church at Ramsgate.
Fifty Catholic Churches to See Before You Die
Elena's beautifully illustrated guide opens up a hidden heritage with its survey of 50 of the finest Catholic churches. Each entry includes other fascinating buildings in the area that are 'worth a detour'.

With a special discount price of £10 for Friends of the National Churches Trust.
Buy the book here
1829 & 1895 : St Charles Borromeo
Hull, Yorkshire

A sedate Georgian façade masks St Charles's exuberant interior with its aura of the Victorian music hall and fairground. There are gilded columns, domes, garlands, cherubs and plaster saints, culminating, above the high altar, in an imagining of the Trinity set in billowing clouds. Lining the sanctuary are statues of 20 saints each with their own umbrella canopy, including the Yorkshire saint, John of Beverley. An exquisite Lady Chapel has a gold semi dome with painted panels, including one of Mary watching over the port of Hull. This, and more, is the work of a German artist, Heinrich Immenkamp, who lived in Hull in the 1890s.

'Think of it as Christ smiling,' said the parish priest as he showed me round. St Charles's can be admired in all its Baroque splendour following a comprehensive restoration. In 2019, Historic England promoted its listing to Grade I.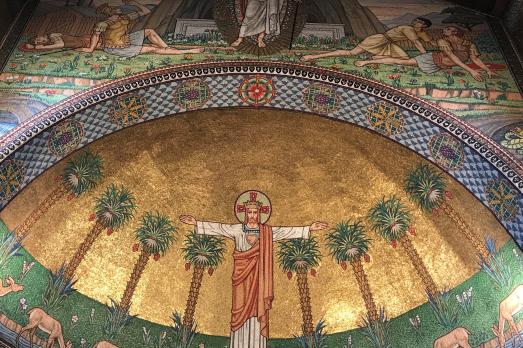 1921 : Sacred Heart & St Catherine
Droitwich Spa, Worcestershire

Ravenna's ancient basilicas and their shimmering mosaics provided inspiration for Walter Loveridge Hodgkinson when he commissioned a church in memory of his late wife, Catherine.

He employed Gabriel Pippet (1880-1962) from Solihull to design mosaics using Venetian glass tesserae in a myriad of colours with plentiful use of gold leaf. Pippet illustrated stories from the Bible, lives of saints, angels and portraits of holy men and women. He lovingly portrayed plants and animals and had an eye for quirky detail, puns and jokes. Hearts and Catherine wheels abound, an allusion to the church's joint dedication. And his visual signature appears on the tympanum above a door on the west front: the Angel Gabriel and a tiny pipit bird.
Catholic churches on our map
Search our map for beautiful Catholic churches and chapels to visit and wonderful stories to discover.
Map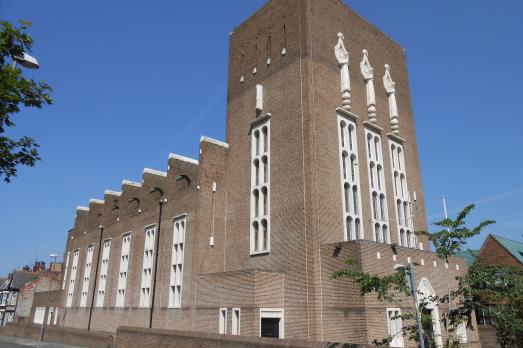 1936 : St Monica
Bootle, Merseyside

The stark beauty of St Monica's is like that of a spectacular railway viaduct or pre-war power station. This is an early work by Francis Xavier Velarde (1897–1960) who trained at Liverpool School of Architecture. Velarde was influenced by churches he saw on his travels in Germany, especially their monumental sculpture known as the westwerk.

St Monica's has three elongated angels, with bowed heads and clasped hands, by the celebrated 20th century sculptor, H Tyson Smith (1883-1972). Round arches recur and soften the austerity of the bare brick interior. The shiny woodblock floor, waxed oak doors and plain oak benches lend a reassuring 1930s solidity. What is wonderful, too, is that many of Velarde's finishing touches survive. These include fluted holy water stoups and even chrome mantles over the recessed radiators.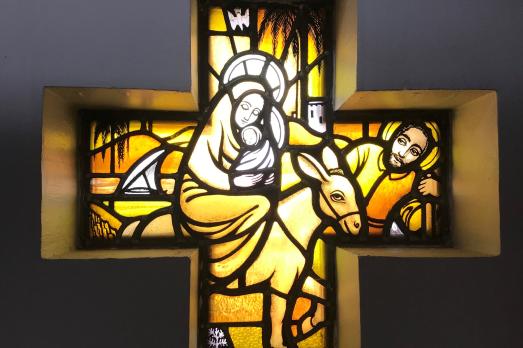 1967 : Blessed Sacrament
Gorseinon, Swansea

Completely round with multiple gables, this modernist church has walls pierced by dozens of glorious cross shaped stained glass windows containing images by the London born artist John Petts (1914–91). There are watery blues where the font once stood, flaming reds in the Blessed Sacrament chapel, and rose coloured glass in the Lady Chapel. A children's chapel, now dedicated to the Holy Family, includes Noah's Ark, and Joseph leading Mary on a donkey, in shades of yellow.

Just as fine are windows completed later by Paul Quail (1927–2010) depicting the Creation and Exodus. Petts produced two steel sculptures: the ethereal Resurrected Christ above the main altar, and in the Lady Chapel, a tender Virgin and Child, the Mater Amabilis (Mother Most Lovable), her baby snugly secured to her body with a shawl, in traditional Welsh fashion.
Elena Curti talks to The Tablet
In this podcast, Elena talks to the Tablet about some of her favourite Catholic churches, from the oldest, through the most gothic, to the latest modern buildings.