Throughout history, churches have been a brilliant source of inspiration for many. From poets and photographers, to potters, playwrights and painters, there is something about churches that continues to move people to create. 
After the release of Denis Dunstone's fabulous new book, A Church Near You, which is full of wonderful watercolour paintings of England's historic churches, we wanted to see how the church was still inspiring people today. Through our newsletter and on our social media channels, we asked people across the UK to send us something creative they'd made about a church.  
Here are our five winning entries, in no particular order, introduced by the artists themselves.  
Watercolour painting of Little Hampden Church by Ken Minter 
"I was really amazed when I saw the church with its ancient 15th century porchway," shares Ken. "It's unusual and very attractive. 
"An interesting mix of different materials and colours made it an enjoyable challenge." 
Ken's watercolour painting is of Little Hampden Church in Buckinghamshire. Ken regularly visits churches across the UK. 
"I have a particular interest in medieval churches and trying to minimise the number [of them that are] closing,' says Ken. 
"This church was one of three I visited that day to record battlefield crosses from World War One, although this one [also] had a rifle and a helmet!" 
'Glorious Light' oil pastel drawing of St Mary and St Bartholomew Church by Catherine Holland
"One of my favourite resting places on my country cycle rides, this beautiful little church dedicated to SS Mary and Bartholomew, has been standing here for at least a thousand years," shares Catherine.  
Catherine's oil pastel drawing – named 'Glorious Light' – is of St Mary and St Bartholomew's Church in the West Midlands.  
"There are many different styles and additions to the building, one can see an old roof line for the nave still on the tower. The windows visible in the picture have Ogee arches, from the decorated period in the 14th century.  
"These wonderful buildings are a jigsaw puzzle of styles that delight the eye, and standing here in the sunshine it is just glorious."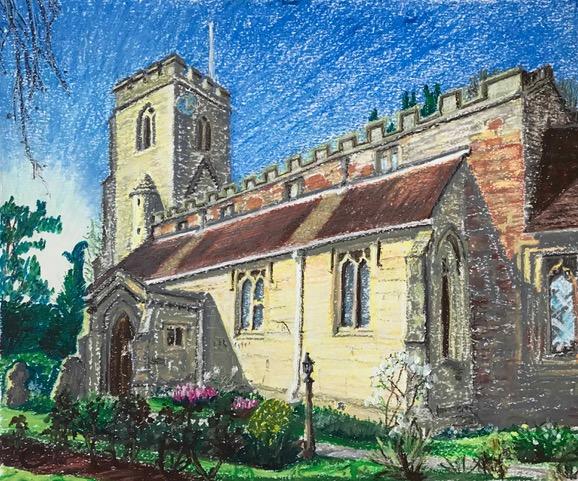 Photography of chancel tiles in St Bartholomew's Church by David Healey
"I took it as part of a series to see if I could, in a series of photos, capture something of the sacredness of churches and cathedrals," explains David. 
The photo – 'Reflections on the tiled chancel floor' – was taken on a Nikon D750 camera at St Bartholomew's Church, a 12th century medieval church in Richard's Castle, Herefordshire.  
The reflection of colours from the stained glass window is mesmerising on these chancel tiles.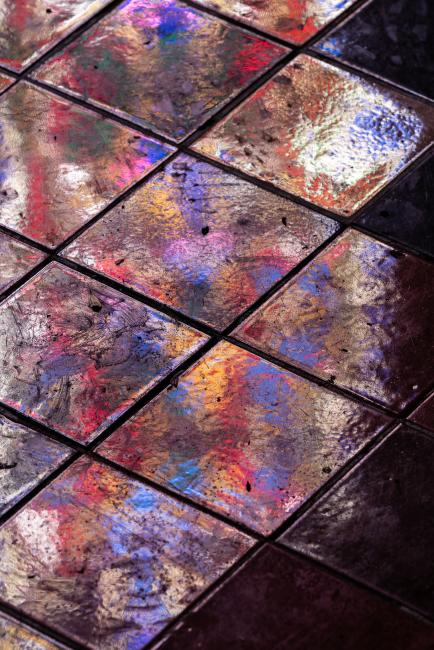 Photography of clay pots in St Michael and All Angels Church by Catherine Dawson 
"I photographed these in my local church, St Michael's and All Angel's in Highworth, Wiltshire..." shares Catherine.  
"They are biscuit-fired carved clay pinch pots." 
It's not just the church building that can inspire people to create but also the artefacts in churches themselves, like these pots in St Michael's and All Angel's, which can make for stunning photos and inspiration for other creative works. 
"My work is totally inspired by visits to ancient churches and cathedrals to view the carvings, fonts and misericords."  
Sketches of All Saints Church by Aidan Ridyard 
"I made the first [sketch] as a student in about 1988," says Aidan. "The second was done in 2021 as an illustration for my book on Richard Twentyman's churches. 
"I love the Arts and Crafts exterior [of this church], with every local craft you could imagine contributing to the whole as a contrast to the simplicity of the interior... [it] never ceases to delight me 30 years later!" 
These two sketches – both of All Saints Church in Brockhampton-by-Ross in Herefordshire – show how churches can continue to inspire us over time in different ways.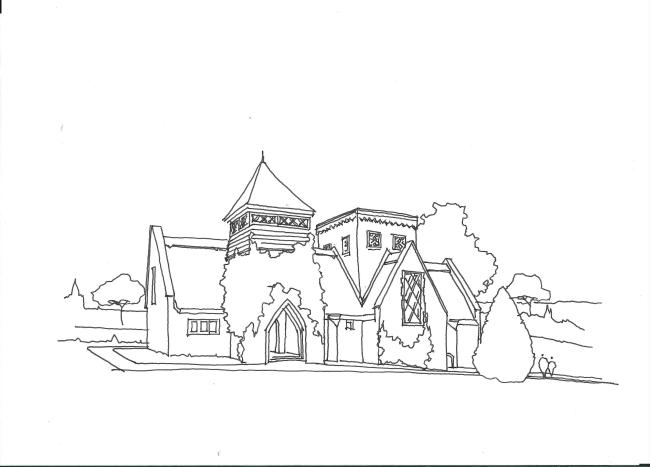 Feeling... inspired? 
It was amazing to see so many entries from across the UK, all featuring a variety of different churches and expressions of them. The sense of history and atmosphere they convey show how much churches capture the imagination of us all, inspiring creativity as they have done through the ages.  
"We must keep churches alive, as they are an amazing historical record and are full of great art and craftsmanship," says author Denis Dunstone. 
"I want to get more people to visit churches and to make it easy for them to enjoy their amazing history and architecture." 
Why not take Denis' advice and visit a church and see what you're inspired to create?