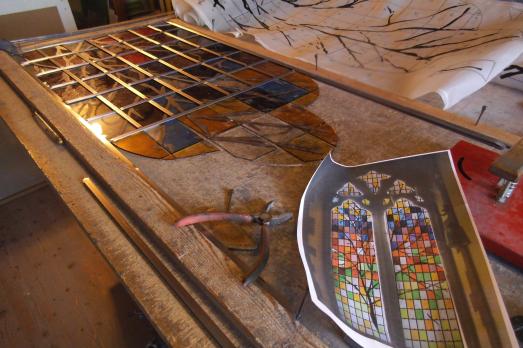 Aldridge Glass
Bedfordshire, Buckinghamshire, Cambridgeshire, Leicestershire, Lincolnshire, Northamptonshire, Oxfordshire, Rutland
Aldridge Glass is a well established stained glass studio based in the heart of Northamptonshire. Founded in 2005 by Rachael Aldridge to provide a complete expert stained glass service to homeowners, church committees and other public bodies. Aldridge Glass specialize in new commissions and in the restoration and repair of stained and leaded glass windows and doors for heritage and residential projects. Conditon Reports for ecclesiatical bodies can also be provided.
As a stained glass designer/craftswoman each new commission is created in collaboration with the client, their specific requirements and each installations unique architectural environment. Restoration and repairs to panels in historic and listed buildings are completed with sensitivity and research along side in depth knowledge gained through over twenty years of hands on experience. I'm confident that I can fulfil all your stained glass requirements, from simple on site repairs to completing condition reports for ecclesiastical bodies.
My work can be found in public and private buildings across Northamptonshire and further afield. The studio opens annually as a regular participant in Northants Open Studios.