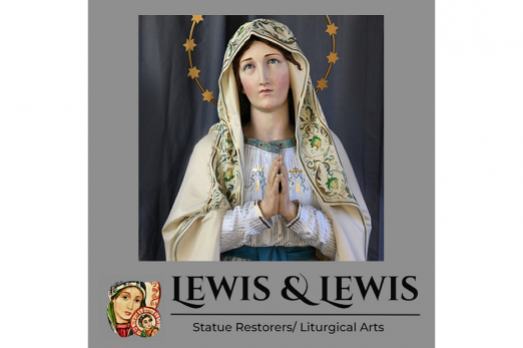 Lewis & Lewis
Specialists in church statue restoration.
England, Northern Ireland, Scotland, Wales
CHURCH STATUE RESTORATION & LITURGICAL ART.
Lewis and Lewis specialise in church statue restoration. They are an independent studio founded in 2010 by Jeanette Lewis (B.Des Hons Arts and Design) and David Lewis (B.Tech Nat/City & Guilds).
Known for their authentic repair and restoration of decorative antique church statuary, their techniques range from contemporary treatments to medieval polychrome methods, using traditional pigments and gilding processes. Their skills extend to decorated furnishings; the restoration of dioramas, low relief friezes and decorative reredos, having restored works by Giles Gilbert Scott, Meyers of Munich, Rafl of Paris, Burnes and Oates, and Stufflesser.
Clients have also commissioned Jeanette and David Lewis to create religious sculpture, icons, paintings and murals to enhance the decoration of their church interiors. Clients include Saint Chad's Cathedral Birmingham, Birmingham Oratory, Manchester Oratory, Shrine Church of St. Walburge's Preston, Carmelite monasteries, Bar Convent, Oscott Seminary, and various schools and colleges throughout the U.K.